Hollande-Valls Record Ratings Gap Shows French Power Tension
Mark Deen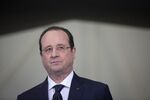 President Francois Hollande's popularity sank to a record low while ratings for his new prime minister surged, creating tension between France's top two politicians.
Hollande's approval rating dropped 5 points in a month to 18 percent, according to a poll by Ifop. The popularity of Manuel Valls, 51, named premier March 31 after a rout for the ruling Socialist Party in local elections, was 58 points. The 40-point lead is the biggest on record for any prime minister against a president. Luc Chatel, an opposition lawmaker, likened the situation to a "co-habitation" -- a term used when a French president and prime minister come from opposing parties.
"The massive gap runs contrary to the traditional functioning of the French system in which the prime minister is the fuse that protects the president," said Ifop pollster Frederic Dabi. It is also reflects "the extraordinarily complicated situation faced by Hollande," he said.
Hollande's unpopularity spans all social and demographic parts of the population and political parties, including in his own, according to Ifop. The poll shows his approval rating among Socialist sympathizers dropping 12 points to 48 percent. The figures underline Hollande's failure to revive an economy that has barely grown in two years and reverse jobless claims that have hit a record 3.3 million. They underscore the size of the rebound he needs before his term in office ends in three years.
"The most damaging thing for the president is that everyone is talking about this gap," said Laurent Dubois, a professor at the Institute of Political Studies in Paris. "Francois Hollande was too optimistic, even naive and that was a grave error. It's not just the economic context."
Separate Poll
A separate poll by Ipos confirmed that Hollande's standing is sliding with voters. His approval rating fell 4 points in a month to 18 percent, Ipsos said in a poll for Le Point magazine. Ipsos gave Hollande a rating of 53 percent when he took office in May 2012. Ipsos surveyed 931 voters April 11 and 12.
Meanwhile, Valls's government will in coming days detail the 50 billion euros ($69 billion) in spending cuts the government plans to make over the next three years.
Finance Minister Michel Sapin said today that the time of "tax increases is over" and that the government aims to reduce its deficit to the European Union limit of 3 percent of gross domestic product next year.
Dubois dismisses the suggestion of a co-habitation along the lines that former President Jacques Chirac managed with Socialist Prime Minister Lionel Jospin between 1997 and 2002.
"Francois Hollande remains the captain of the ship," Dubois said. "Manuel Valls is an additional motor to boost a car that has broken down, but he hasn't been given the keys. And his popularity will erode. That happens to every prime minister."
Ifop polled 1,909 adults between April 4 and 12. The survey's margin of error is about 2 percent.
Before it's here, it's on the Bloomberg Terminal.
LEARN MORE