Palladium Rises to 32-Month High on Ukraine Turmoil
Nicholas Larkin and Luzi Ann Javier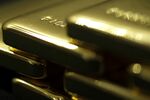 Palladium futures rose to the highest since 2011 as escalating tensions in Ukraine fueled concern that sanctions will restrict supply from Russia, the world's biggest producer. Gold advanced.
European officials said the government in Moscow is stoking separatist unrest in eastern Ukraine, and weighed a third round of measures against Russia. Lithuanian Foreign Minister Linas Linkevicius urged striking at Russia's banking and finance system.
Palladium has advanced 13 percent this year as the threat of disruption to Russian exports added to supply concerns amid a miners' strike in South Africa, the second-biggest producer. The introduction last month of two exchange-traded products backed by the metal signals further tightness, Citigroup Inc. said today in a report.
"Rarely have there been such favorable conditions in terms of strong demand versus disrupted supply," Steven Scacalossi, the head of global metals sales at TD Securities in Toronto, said in a report. "Palladium is the market in the spotlight."
Palladium futures for June delivery rose 0.6 percent to close at $811.50 an ounce at 1:10 p.m. on the New York Mercantile Exchange. Earlier, the price reached $817, the highest for a most-active contract since Aug. 3, 2011.
Palladium is used in pollution-control devices in cars. Russia accounted for 40 percent of production last year with South Africa at 37 percent, according to London-based Johnson Matthey Plc. More than 70,000 miners have been on strike in South Africa since Jan. 23.
Gold Futures
Gold futures for June delivery climbed 0.6 percent to $1,327.50 an ounce on the Comex in New York. Earlier, the metal reached $1,331.40, the highest since March 24. The price has rallied 10 percent in 2014. Last year, the commodity plunged, 28 percent, the most since 1981.
Federal Reserve Chair Janet Yellen said on March 31 that the economy will need stimulus for "some time," and minutes of the Fed's last meeting released last week played down forecasts for higher interest rates.
Silver futures for May delivery rose 0.3 percent to $20.01 an ounce on the Comex.
On the Nymex, platinum for July delivery climbed 0.3 percent to $1,467.40 an ounce. The price reached $1,471.50, the highest since March 17.
Before it's here, it's on the Bloomberg Terminal.
LEARN MORE