Domino's New Rallying Cry for Chicken Sales: This Might Fail
By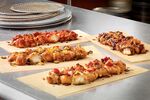 As its oven-baked sandwiches, penne entrees, and chocolate lava cakes suggest, Domino's has already been trying to become more than a pizza chain. Now the fast-expanding menu will add more chicken.
The item, dubbed "Specialty Chicken," comes with 12 pieces topped with a choice of sauces and cheeses in four flavors: crispy bacon and tomato; spicy jalapeño-pineapple; classic hot buffalo; and sweet BBQ bacon. It's only the second time Domino's has run a national chicken promotion since 2002, but the category has become a big part of Domino's offerings.
The new dish, said spokesman Chris Brandon in an e-mail, is meant "to show that we aren't just a pizza company anymore. … It also proves that we are becoming a pretty legit player in the chicken business." Domino's supply chain distributed more than 6.5 million pounds of boneless chicken to U.S. stores in 2013 for boneless wings. Still, to put things in perspective, the company moved 300 million pounds of dough last year.
The focus on boneless chicken makes sense in light of the protein's increasing popularity in fast food. Boneless chicken sales in the industry grew 11 percent in the three years ended February 2013, according to NPD data cited by Domino's. Since the new dish is an easy add-on to a pizza order, it has potential to boost the average check.
Yet Domino's marketing around the new chicken product—with the tag line: "Failure is an option"—isn't particularly assertive for a company trying to flex its non-pizza muscles. Is Domino's worried customers won't trust pizza-chain chicken bites? No, said Brandon: "For a pizza company to try its hand at creating a very unique chicken menu item shows that we are not afraid to take those risks, and we are very excited to see how customers respond."
Before it's here, it's on the Bloomberg Terminal.
LEARN MORE