China Slow to Reveal Pipeline Leak That Tainted Water for 2.4 Million
Christina Larson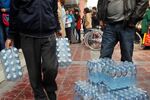 A ruptured oil pipeline operated by China National Petroleum Corporation has tainted the water supply of 2.4 million people in northwestern China, state-run newswire Xinhua reported last Friday.
Leaked crude oil contaminated water flowing into a municipal water treatment plant serving the city of Lanzhou, capital of western Gansu province. City authorities instructed residents not to use water from faucets over the weekend, setting off a panicked scramble to buy bottled water.
Lanzhou's environmental protection chief, Yan Zijiang, told state media that local authorities had detected dangerously elevated levels of benzene, a cancer-causing chemical, in the city's tap water. On Friday, samples of Lanzhou's water contained 200 micrograms of benzene per liter—20 times the national safety limit of 10 micrograms per liter.
Lanzhou authorities first noticed a problem on Thursday at about 5 p.m. But the presence of elevated benzene levels was not made public until Xinhua published a report on the leak around noon on Friday. The city government then published an alert on its microblog at roughly 4 p.m. on Friday.
Residents worry the delay in sharing information was both careless and harmful. "We wonder what the authorities and tap water supplier were doing during this time period. If the water is poisonous, why not tell us to stop drinking it as soon as possible?" Lanzhou resident Dong Junde, lamented to independent newsmagazine Caijing.
Before it's here, it's on the Bloomberg Terminal.
LEARN MORE