Sole Korea Rate-Cut Call Reviewed at ING as Goldman Adjusts
Jiyeun Lee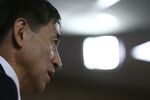 ING Groep NV is the only bank left predicting a 2014 interest-rate cut in South Korea. There may be none soon as the call is reviewed after a Bank of Korea meeting that prompted Goldman Sachs Group Inc. to pull its forecast.
The central bank kept its benchmark rate at 2.5 percent at an April 10 policy meeting and Governor Lee Ju Yeol said the decision was unanimous. A recent slowdown in inflation was mostly due to temporary factors and the monetary authority may consider raising borrowing costs as price pressures build, Lee told a press briefing that day. The bank lifted its 2014 economic growth estimate to 4 percent from 3.8 percent, and cut its inflation projection to 2.1 percent from 2.3 percent.
South Korea's bonds have handed investors the second-lowest returns in Asia excluding Japan this year, beating only the Philippines, and the outlook for the securities may dim as rate-cut predictions are axed. Goldman described Lee's tone as "hawkish" and said April 10 it was no longer expecting a 25 basis point reduction in the benchmark rate this year. Of 26 economists surveyed by Bloomberg, 13 forecast the rate will be raised at least once in 2014, while ING still sees a 25 basis point cut in July.
"We are reviewing our current forecast for a possible change," Prakash Sakpal, a Singapore-based strategist for ING Bank, said in an April 11 interview. "Governor Lee's comments after the policy meeting indicated the possible next move in the benchmark rate would be up."
Swap Strategy
Bank of Korea Governor Lee Ju Yeol said in Washington over the weekend that surprise decisions on interest rates aren't desirable and expectations for interest-rate cuts are low in the money market, Yonhap News reported.
Investors should pay South Korea's 10-year interest-rate swap to "position for expectations of higher rates," Ashish Agrawal, a Singapore-based analyst at Credit Suisse Group AG, wrote in an April 11 research note. The contracts, which exchange fixed payments for the three-month certificate of deposit rate, fell six basis points last week to 3.29 percent in Seoul, according to data compiled by Bloomberg. The three-month rate was steady at 2.65 percent.
Last week's Bank of Korea meeting was the first since Governor Lee Ju Yeol replaced previous chief Kim Choong Soo whose term ended March 31. Lee has 35 years' experience at the central bank, which he left in April 2012 when a three-year term as senior deputy governor ended. The latest announcements showed the monetary authority sees inflation as a bigger risk than an economic slowdown, Kwon Goohoon, Seoul-based economist for Goldman Sachs, wrote in an April 10 report.
'Hawkish Stance'
"The press conference confirmed Lee's hawkish stance," Hwangbo Youngok, a Seoul-based director for Korea Investment & Securities Co., one of the nation's 21 bond primary dealers, said in an April 11 interview. "Still, the actual rate increase will only happen after data matches Bank of Korea's expectations." Hwangbo predicts borrowing costs will be left unchanged this year.
Consumer-price gains quickened to 1.3 percent in March from February's 1 percent, while remaining below the central bank's target band of 2.5 percent to 3.5 percent. Export growth accelerated to 5.2 percent from 1.5 percent.
President Park Geun Hye unveiled in February a three-year plan to boost the country's growth potential through deregulation and innovation. That signaled authorities seek to support the economy through broader reforms instead of monetary policy adjustments, according to ING's Sakpal.
Bonds, Won
The yield on South Korea's 10-year government debt fell five basis points, or 0.05 percentage point, this year to 3.54 percent as of 10:31 a.m. today in Seoul, data compiled by Bloomberg show. South Korea's won appreciated 1.6 percent to 1,038.9 per dollar, touching 1,031.55 on April 10, the highest since August 2008.
The 10-year yield, which climbed 43 basis points in 2013, will rise to 3.9 percent by year-end, according to a Bloomberg survey of analysts. That would mark the first back-to-back annual increases in Bloomberg data going back to 2000.
Barclays Plc recommends entering one-year interest-rate swaps to position for an increase in borrowing costs. The contracts declined two basis points this year to 2.69 percent.
"Expectations for rate increases aren't reflected in the interest-rate market yet as the market is still unsure of the timing of monetary-policy normalization," Rohit Arora, a Singapore-based strategist at Barclays, said April 11. "We expect the Bank of Korea to begin normalizing rates in the third quarter, and see room for one-year interest rate swaps to rise 40 basis points in the next six months."
Ample Cash
Bond yields haven't yet risen on bets of potential policy tightening by the central bank because ample cash supply in the financial system is fueling demand, according to Moon Hong Cheol, a fixed-income analyst at Dongbu Securities Co.
"Investors still unsure of an economic recovery are parking money in money-market funds and cash-management accounts," which buy short-term bonds, Seoul-based Moon said. "We see continued demand for mid- to long-term sovereign debt from insurers."
The amount managed by money-market funds and cash-management accounts rose to 76.5 trillion won ($74 billion) as of March 31 from 68.7 trillion won at the end of 2013, according to central bank data.
Before it's here, it's on the Bloomberg Terminal.
LEARN MORE