Venezuela's Maduro Holds Televised Talks With Opposition
Jose Orozco and Nathan Crooks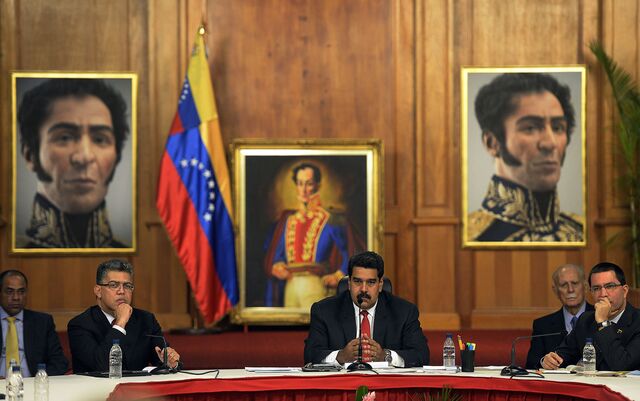 Venezuela's government held televised talks with the opposition for the first time since the outbreak of protests against inflation and rising crime that have roiled the nation and left at least 39 dead.
The talks took place at the presidential palace in Caracas and lasted more than five and a half hours, ending at about 1:55 a.m. Caracas time today. President Nicolas Maduro agreed to an opposition proposal to follow up with a meeting on April 15.
"This is a debate, a dialog, and there are no negotiations, no pacts," Maduro said yesterday in a national address that started at about 8:10 p.m. local time. "The only thing we're looking for here is a common will for peace, democracy, respect, recognition."
Demonstrations by students that began in early February over safety at universities turned into a nationwide protest against Maduro's handling of crime and the economy. Among other demands, the opposition is pushing for the release of political prisoners and jailed protesters including Leopoldo Lopez, leader of the Popular Will party, and two opposition mayors, who have been charged with inciting violence.
Foreign Participation
The foreign ministers of Brazil, Colombia and Ecuador joined the talks with the opposition's Democratic Unity Round Table alliance including Secretary Ramon Guillermo Aveledo and Governor Henrique Capriles, who lost to Maduro last year in the narrowest election in 45 years. Vatican representative Aldo Giordano read a letter from Pope Francis supporting national reconciliation.
Venezuela's opposition had split over whether to join talks with the government. Three of the nine political parties forming the opposition alliance, known as MUD, said they won't join the meetings until the government frees all political prisoners.
Aveledo said the opposition's agenda included disarmament of pro-government paramilitary groups, the release of political prisoners and detained student protesters and protecting the rights of opposition lawmakers.
"We don't want a coup or a social explosion," Capriles said after taking his turn to speak at 12:40 a.m, adding that the current economic and political situation in the country was not sustainable. "We have to find a way to try and unify this country. This changes or it explodes. I hope it changes."
Rising Tensions
Maduro agreed to Aveledo's proposal for a follow-up meeting on April 15 and ordered a government committee including Vice President Jorge Arreaza to help set an agenda.
Tensions have been rising since Maduro won the last presidential election in April 2013 after the death of his mentor, former President Hugo Chavez. The government received 51 percent of the vote with the opposition gaining 49 percent.
"How are you going to ask for respect when you disrespect?" Capriles asked Maduro. "How are you going to ask the country to accept you if you call half the country fascists and threaten them? They're not going to respect you. I think it's very difficult to govern a country where half of it is against you. I think it's impossible. You have a huge responsibility, not just to those you speak to, but to the whole country."
'Marketing Stunt'
Maria Corina Machado, an opposition leader, was stripped of her National Assembly post last month for speaking against the government at a meeting of the Organization of American States in Washington at Panama's invitation.
The yield on Venezuela's benchmark 9.25 percent dollar bond due 2027 rose 23 basis points to 12.19 percent at 10:05 a.m. in New York today, ending a seven-day rally. Venezuelan bonds have returned 11.9 percent this year, according to JPMorgan Chase & Co.'s EMBIG Diversified index.
"The uncertainty is whether this is just a marketing stunt from the Maduro administration to improve his public image," Siobhan Morden, head of Latin America fixed-income strategy at Jefferies Group Inc., said in an e-mailed note to clients today on the peace talks. "The public debate with international mediators forces President Maduro to offer concessions - freeing political prisoners - or face reputational loss if not a worst crisis medium term."
Before it's here, it's on the Bloomberg Terminal.
LEARN MORE