How Chick-fil-A Spent $50 Million to Change Its Grilled Chicken
by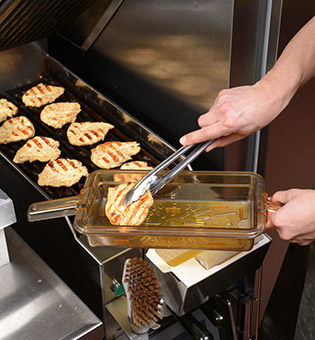 Chick-fil-A wants a healthier image to go along with its emblematic fried-chicken sandwiches. To that end, next week the country's largest chicken chain by sales will replace its old chargrilled menu options with a new recipe used for three new items: a grilled chicken sandwich, a grilled chicken club with bacon, and grilled chicken tenders. The new grilled recipe also replaces the chicken in its salads and wraps.
It's a small gamble for the company: The chargrilled sandwich accounted for 7 percent of Chick-fil-A's sales in 2013. "I never thought of it as being craveable," says David Farmer, vice president of product strategy and development. People ate it because they should, he theorizes, not because they looked forward to it. As consumers become more health conscious, Farmer says, having an enticing grilled option is necessary: "Taste is king, but it increasingly has to be healthy, natural, and sustainable."
Chick-fil-A claims it spent more than $50 million figuring out its new approach to grilling, which included developing new automated grills that wouldn't dry out the meat and installing them at all 1,775 restaurants. After trying more than a thousand recipe iterations, it settled on one that involved not just marinating the fillets in "a blend of sea salt, lemon, garlic, and savory herbs," but also basting the chicken.
The process took seven years to complete. Here's a step-by-step guide to the exhausting and costly birth of a grilled chicken sandwich:

The result of all that testing, according to Chick-fil-A's marketing, is "a tender, juicy filet with just the right amount of smoky flavor." Add gluten-free to the list of promotional terms.
Coming up with a new recipe would seem like an obvious place to start. But Chick-fil-A found otherwise: "The trick," Farmer explains, "was more on the equipment side." The old grill applied too much pressure on the meat, which produced dry sandwiches.
Like its predecessor, the new grill has a clamshell shape to cook the chicken on both sides—envision an industrial-scale George Foreman Grill—and slash the cooking time. The new version, developed by Garland Grills after Chick-fil-A's in-house prototype failed to make the cut, has cast-iron grates and is programmed to automatically lower and lift the upper part to apply the right amount of pressure on the meat.
It was also made the same size as the old grills, about one foot across and four feet deep—big enough to cook 10 fillets at a time—to make replacement at every restaurant relatively easy. "When we came up with a new cooking platform," Farmer says, "that was the breakthrough that helped the most." The recipe was then tailored for the new grill.
If the new chicken items do well enough, the company will consider swapping out a fryer—most stores have three or four—to add a second grill. That would be a huge change for a brand built on fried chicken. "That's OK," Farmer says. "I could see that."
Before it's here, it's on the Bloomberg Terminal.
LEARN MORE