Chinese Court Rejects Activist's Appeal in Dissent Crackdown
Bloomberg News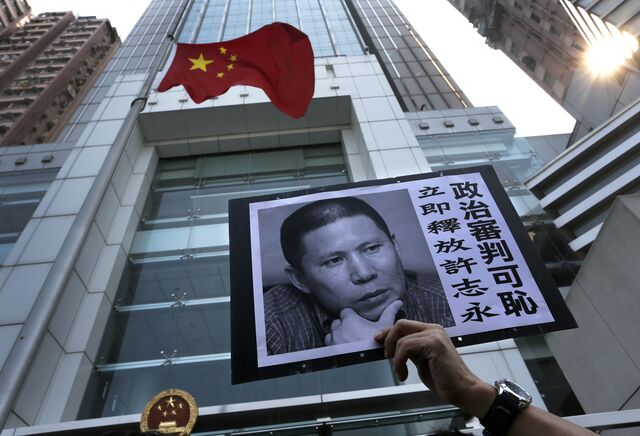 A Beijing court upheld legal scholar Xu Zhiyong's four-year jail term on charges of gathering a crowd to disturb public order, a new blow to his movement that urged officials to disclose their assets.
Xu, the most prominent activist jailed since Nobel Peace Prize winner Liu Xiaobo in 2009, has "run out of legal options," his lawyer Zhang Qingfang said by phone after announcing that the sentence was upheld today. Xu helped found the New Citizens' Movement, a loose alliance of activists that seeks to promote rule of law, democracy and official disclosure of assets.
"The ridiculous ruling will not stop the tide of the people's progress," Xu, 41, said in court today, according to Zhang. "The haze of Communist autocracy will fade away." Four other members are on trial this week, according to the New York-based rights group Human Rights Watch.
While President Xi Jinping has overseen a campaign against corruption that led to the arrest of officials in the government, business and the military, the ruling Communist Party has also sought to check the activities of online commentators and arrested microbloggers on charges of spreading false rumors. Chinese authorities have arrested at least 50 activists since March last year, according to Human Rights Watch, as they seek to rein in dissent that they consider a threat to social stability.
'Huge Contradiction'
"Xi Jinping is cracking down on corruption and is getting support from Xu Zhiyong that he should welcome," said Bo Zhiyue, a senior research fellow at the National University of Singapore who specializes in China's elite politics. "But Xu is being punished. That's a huge contradiction."
Xu was sentenced Jan. 27 by the Beijing No. 1 Intermediate People's Court. Two calls to the external relations office of the Beijing Municipal High People's Court, which rejected the appeal, were unanswered.
"China is a country governed by rule of law and everyone is equal before the law," Foreign Ministry spokesman Hong Lei said at a regular press briefing in Beijing today. "The ruling by the judicial authorities is in accordance with the law."
Xu releases his autobiography today, called "To Be a Citizen" and published by Hong-Kong based New Century Press, the South China Morning Post reported. It sheds light on the activist's upbringing and his vision of a free China, the newspaper said.
Xu helped Chinese families sickened by tainted milk in 2009 to file lawsuits. He publicly called for China to move toward democracy and abide by the constitution, and was detained July 16 in Beijing after a group of other activists unfurled banners demanding China's leaders disclose their assets.
Displayed Banners
The New Citizens' Movement displayed banners, collected signatures and distributed promotional materials, Xu said in a prepared statement after his trial ended Jan. 22. It also campaigned to promote the rights of children of migrant workers to take university entrance exams locally.
The Jan. 27 verdict said Xu had used people's concern over certain social topics to organize and incite others to disturb public order in front of the Ministry of Education as well as other public places in Beijing, according to a copy posted online by his lawyer Zhang. Xu, along with venture capitalist Wang Gongquan and Ding Jiaxi, organized almost 100 people in February 2013 to gather in front of the gates of the Beijing Municipal Commission of Education office that created "serious chaos" in the nearby area, the verdict said.
Wang was arrested on charges of assembling a crowd to disturb public order in October. He pleaded guilty to the charges, a posting on the official Weibo account of the Beijing No. 1 Intermediate People's Court said Jan. 23.
Tighter Space
Efforts by Xu and other activists have clashed with a tightening of the space for dissent under Xi. Besides detaining street protesters, the Communist Party has also sought to check the activities of online commentators and arrested microbloggers on charges of spreading false rumors.
Xi's crackdown on corruption is a top-down effort aimed at consolidating power, Bo of the National University of Singapore said. The sentence will send a message to citizens that dissent won't be tolerated, especially by those who seek to organize people or engage in behavior deemed unacceptable, he said.
"The selective persecution of those who are doing nothing more than trying to improve governance through legal means has to stop now," Human Rights Watch China director Sophie Richardson said in an e-mailed statement today.
Disclose Assets
Xu's calls for officials to disclose their assets was part of an effort to push China to establish an anti-corruption mechanism, he said in a statement after the trial. While China punished more than 180,000 officials last year, officials are not required to publicly give details of their financial holdings.
China's elite, including the brother-in-law of President Xi, have used offshore companies that helped hide wealth in tax havens such as the British Virgin Islands and Samoa, a report by the International Consortium of Investigative Journalists said Jan. 22.
In June 2012, Bloomberg News reported that the wealth of Xi's extended family included investments in companies with total assets of $376 million; Hong Kong real estate worth $55.6 million; and an 18 percent indirect stake in a rare-earths company with $1.73 billion in assets.
— With assistance by Daryl Loo
Before it's here, it's on the Bloomberg Terminal.
LEARN MORE