What's Behind China Disappointing Exports and Imports?
by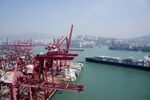 Even as China's trade numbers came in well below expectations, Premier Li Keqiang insisted that his government is not ready to launch any serious stimulus.
China "won't adopt short-term and strong stimulus policies in response to temporary fluctuations in the economy," Li said in a speech at the Boao Forum for Asia on Hainan Island today. "Instead, we will focus more on healthy growth in the medium to long term and will make efforts to achieve sustainable and healthy development."
Exports in March fell 6.6 percent from a year earlier, while imports dropped 11.3 percent, both well below what had been anticipated. A Bloomberg News survey of analysts had expected 4.8 percent growth for exports and a 3.9 percent rise for imports.
That Li, China's top economic steward, doesn't appear too worried isn't surprising: The disappointing performance of exports appears to have a lot to do with invoicing funny business, which drove a surge in recorded overseas shipments a year ago and made March figures weak by comparison. While last month's exports to Hong Kong dropped 43.6 percent, a year ago they shot up 92.9 percent.
China's customs administration later last year said the surge was likely due to companies exaggerating their exports to bring capital into China and take advantage of a rising yuan. Customs then launched a crackdown on fraudulent invoicing, much of it in trade with Hong Kong. "From May onward, Chinese exports to Hong Kong will rebound significantly to push up overall exports and trade growth," customs spokesman Zheng Yuesheng said in a statement today.
"Underpinning our view that over-invoicing was the primary culprit behind the weakness of March's headline export print was the fact that China's G3 [the U.S., the EU, and Japan] and ASEAN-bound shipments held firm last month," up 6 percent and 10.3 percent, respectively, wrote Tao Wang, chief China economist at UBS Securities in Hong Kong in a April 10 note.
"This contrasted with the plunge in Hong Kong and Taiwan-bound shipments, destinations where over-invoicing activity was most rampant last year. Echoing this was the sharp drop in processing, jewelry and high-value electronic product exports, all of which were used in over-invoicing deals last year," she wrote.
So while export numbers may not be worth getting alarmed about, that isn't necessarily the case with inward shipments. Falling commodity prices, including those for copper, iron ore, petroleum, and soybeans, explained part of the decline in imports, according to Wang.
At the same time, though, imports of electronic processing components, crude oil and petroleum products, and shipments "from the G3 economies also slowed visibly, which is potentially more worrying," wrote Wang. "The decline in imports of energy products and G3-sourced imports does give rise to concerns about potential weakness in China's domestic demand."
What are the implication? Despite Li's talk about no more stimulus, that policy could change if the domestic economy continues to disappoint. In the past few weeks, Beijing has already announced plans to speed up railway and water project approvals and push more renovation of rundown urban areas. The government has also said it will cut taxes on smaller businesses. "March's disappointing trade figures may raise hopes of a 'mini stimulus' from China's government in support of growth," Wang concluded.
Before it's here, it's on the Bloomberg Terminal.
LEARN MORE