Thunderbird Is Walking Away From Its For-Profit Partner. What Now?
by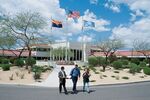 Plans for a controversial partnership between the Thunderbird School of Global Management and for-profit company Laureate Education are now kaput, forcing the cash-strapped school to find a new plan to stay afloat.
Last year Thunderbird announced that to shore up its books and allow the Glendale (Ariz.) school to expand into new markets, it would pair up with Laureate, creating a joint operating company that would split revenue down the middle and selling its campus to Laureate for about $50 million. But on Wednesday, Thunderbird said the would-be partners had decided to part ways, after the Higher Learning Commission, its accrediting agency, rejected the plan.
Applications to Thunderbird have declined dramatically in recent years, and the school is running up debts. If Laureate isn't the answer to its problems, the school will need to find a new one, fast. "Although opinions on the Laureate alliance have been mixed, the need for a partnership remains," wrote the school's president, Larry Penley, in an open letter after its accreditation bid was blocked.
Thunderbird will seek "a new strategic partnership to benefit our students, alumni, faculty, staff, and executive education clients," Penley wrote yesterday in an e-mailed statement, but what such a collaboration would look like is far from clear.
Through a spokesman, the school declined to elaborate on the identities of potential partners or what comes next for the school—questions of intense interest to other business schools at a time when increased competition and new innovations in management education may push dozens of schools to the financial brink.
Thunderbird announced its plans for the Laureate partnership in March of 2013, spinning the move as a chance to repair its finances, expand into undergraduate education, and launch new campuses around the world. The plan didn't sit well with Thunderbird alumni, many of whom signed a petition protesting the move, arguing that the strategy would do "permanent and irreparable harm to the Thunderbird brand, ranking, and academic reputation." By July, five Thunderbird trustees had resigned in protest, followed by an exodus by board members of the school's alumni organization.
The would-be partners pressed ahead. Laureate, a Baltimore company with almost 800,000 students around the world and about $4 billion in annual revenue, proposed to invest millions in campus upgrades and online programs. Thunderbird, which ended its fiscal 2013 with a loss of $8.7 million, replenished its board. The proposal moved forward over alumni objections until last month, when the Higher Learner Commission said it wouldn't expand Thunderbird's accreditation.
Last summer Bloomberg Businessweek suggested that the Thunderbird saga might provide future business school students with a case study in brand management, adapting to changing market conditions, and operating as an independent in an industry dominated by conglomerates (in this case, business schools that, unlike Thunderbird, belong to larger universities). Add identifying strategic partners to that list.
The Wall Street Journal reported last year that Thunderbird sought help from Arizona State University, Hult International Business School, and Middlebury College before landing with Laureate. At the end of last month, an independent alumni association formed to oppose the Laureate partnership offered to provide "tens of millions of dollars" to buy the school more time to chart its future. Thunderbird did not accept the funds.
Before it's here, it's on the Bloomberg Terminal.
LEARN MORE