business
Staples Wants to Bring 3D Printing to the Masses
The store's success with copy services enters a new dimension
By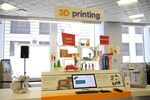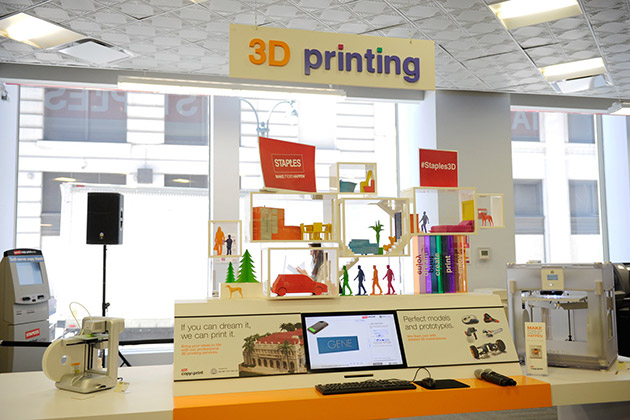 Times are tough at Staples, which announced last month that it plans to shutter as many as 225 of its roughly 1,850 North American stores within two years. The office supplies retailer also said it's abandoning low-selling product lines, although it hasn't named any yet. As it recruits executives to strengthen its e-commerce division, however, Staples is expanding one brick-and-mortar business that's doing well: its copy shop. The company has increased revenue from copy and print services over the past two years, partly offsetting revenue declines from sales of printers and other hardware. Now it's trying to do the same with 3D printers.
Buying a 3D printer from Staples runs customers about $1,500, and few can use one often enough to justify the investment. Since April 10, the company has been offering 3D printing services at two test stores in New York and Los Angeles. The idea is to appeal to small business owners—including engineers, jewelry makers, and architects—trying to develop prototypes or turn out product runs. The machines can also quickly create business tchotchkes such as custom pens and fridge magnets. Depending on the materials required, Staples says it could charge as little as a few dollars or, in the case of a functioning 3D-printed guitar, as much as a few thousand.
Staples has already been experimenting with 3D printing services in Europe. In the U.S., United Parcel Service began a similar program aimed at small business last year. New York-based startup Shapeways takes design orders online, produces them at a central printing facility, and ships them to customers. Usually, 3D operations require people to come in with a completed design file ready for printing. Damien Leigh, Staples' senior vice president for business services, says his company is trying to stand out by training in-store graphic design consultants to guide first-time 3D printing customers through the process. "The way we envision this working is from soup to nuts," Leigh says.
Although most of its printing will be done in-store, Leigh says, Staples will outsource large-scale jobs to the facilities of 3D Systems, which is running the New York and L.A. trials and has been selling 3D printing services since 2010.
If its U.S. test pays off, Staples says it will consider placing 3D printers in other stores and offering similar services online. Leigh says he wants to showcase 3D printing for casually interested customers, letting them play with the machines and use an in-store photo booth to print their faces on customized action figures. The challenge is that most consumers don't yet have a realistic understanding of what 3D printers can do, says Pete Basiliere, an analyst at researcher Gartner. In the broader market, "it's still on the peak of inflated expectations," he says. "The consumers are being misled almost to the idea of 'I can buy a 3D printer, and make a chess set in the morning, and print out some pasta in the evening.' " Once reality sets in, Staples may not be able to count on 3D printing services to keep it from closing more stores.
Before it's here, it's on the Bloomberg Terminal.
LEARN MORE