SAC Capital's Criminal Settlement: Was Justice Done?
By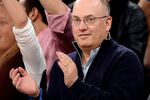 In approving the guilty plea negotiated by SAC Capital to resolve charges that it engaged in firmwide criminal insider trading, Judge Laura Taylor Swain was methodical and precise. She made the defense attorneys and the prosecutors introduce themselves. She read through all the charges, without skipping a line, and asked both sides to justify why she should sign off on the deal they'd made. Then she took a break to gather her thoughts in her chambers before returning to the courtroom, plopping her stainless steel coffee mug down on the bench and saying: "The court accepts the plea agreement." Before she did that, however, she made a point of observing something, twice, that was on the minds of many people in the room, that "the defendants will still be significant investors in the market, with billions of dollars."
For SAC Capital—now known as Point72 Asset Management—its founder Steven Cohen, and its employees, the approval of the guilty plea represents a moment of closure and great relief. But for anyone who cares about matters of crime, punishment, and Wall Street, two pressing questions remain: Is this suitable retribution for what the government says happened at one of the world's largest hedge funds? And why was Cohen never charged?
After an investigation stretching over seven years and involving multiple government agencies, the Manhattan U.S. Attorney's Office elected last July to charge the corporate entity SAC Capital with insider trading, saying that the illegal activity there was "substantial, pervasive and on a scale without known precedent in the hedge fund industry." After an intense period of negotiations this fall, SAC reached an agreement with the government to settle the charges by pleading guilty, ending its business as a manager of outside money, and paying a fine of $1.2 billion, in addition to $616 million it already agreed to pay the SEC.
Eight former SAC employees have pleaded guilty to criminal insider trading, and two of them, Michael Steinberg and Mathew Martoma, were convicted at trial and are awaiting sentencing (both are appealing their cases). Anyone who was in the room when those guilty verdicts were read, and who saw the anguish on the faces of their spouses and parents, is unlikely to forget it. Cohen, meanwhile, goes on much as he did before, buying and selling hundreds of stocks every day as the head of a $9 billion family office rather than an actual hedge fund. It's become a familiar pattern at major financial firms, which have been paying billions of dollars in fine of late to settle all manner of civil and criminal cases.
As part of the settlement, SAC agreed to hire an independent compliance consultant who will monitor trading at the company and report back to the government in six months as to how it's going. After a lengthy discussion about how the mechanics of that would work, SAC's general counsel, who was there on behalf of the company, stood up and said: "We are absolutely committed to moving forward in a positive and responsible manner."
Before it's here, it's on the Bloomberg Terminal.
LEARN MORE