Netanyahu, Abbas Emerge From Talks Wreckage With Support Intact
Calev Ben-David and Fadwa Hodali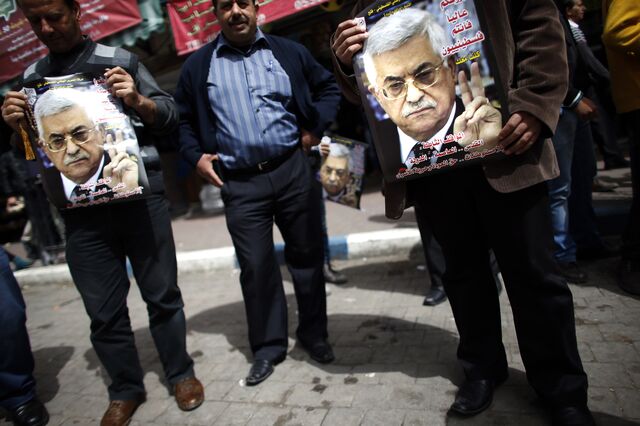 As Mideast peace talks teeter again on the brink of collapse, Israeli Prime Minister Benjamin Netanyahu and Palestinian President Mahmoud Abbas are emerging largely unscathed in the eyes of their constituents.
Both opinion polls and analysts suggest the leaders will walk away with their domestic standing intact -- if not enhanced -- should U.S. efforts to resuscitate negotiations founder, reflecting a political universe where failure to make a deal carries fewer risks than making concessions.
"Most Israelis and Palestinians were perfectly aware these talks had a very slim chance of success, there were no expectations, and there was no effort from Netanyahu or Abbas to prepare the public for any significant breakthrough," said Yoram Meital, a political science professor at Ben-Gurion University of the Negev in Beersheba.
Whether history will judge the leaders differently remains to be seen, for the collapse of talks may unleash an array of scenarios, ranging from diplomatic warfare to violence in the streets.
Negotiations reached an impasse last week after Israel failed to go through with a scheduled Palestinian prisoner release and announced construction plans in contested east Jerusalem. Palestinians responded by renewing their diplomatic campaign to broaden international recognition of a state of Palestine.
Points Fingers
U.S. Secretary of State John Kerry, who has been shepherding the talks since July, declared it time for a "reality check" on his peace mission. Days later, he told Congress that while "unhelpful actions" on both sides contributed to the breakdown, Israel's conduct precipitated it.
The prospect that talks might collapse for good hasn't hurt Netanyahu's standing among voters, according to a poll this week for Israel's Channel 10 TV. The prime minister's Likud-Yisrael Beitenu faction would win the most seats in Israel's 120-member parliament if elections were held today, increasing its current representation by two lawmakers to 33, or more than double any other party, the poll showed.
"The majority of Israelis, even those who support a two-state solution, had low expectations for these talks and didn't like the linkage with the release of Palestinian killers," said Abraham Diskin, professor of political science at the Hebrew University of Jerusalem.
Image Burnished
Abbas's image probably been burnished domestically by his showdown with Israel, according to Khalil Shaheen, an analyst at the Palestinian Center for Policy Research and Strategic Studies.
In 2012, the Palestinian leader won United Nations General Assembly recognition of an independent state of Palestine in the West Bank, east Jerusalem and Gaza Strip. His decision to pursue statehood goals outside negotiations is more popular than engaging in talks "that have not achieved any outcomes that satisfied Palestinian goals toward establishing an independent state," Shaheen said.
Sixty-four percent of 1,200 Palestinians polled last month by Arab World for Research & Development said an independent state seems more distant today than when the first accords with Israel were signed two decades ago.
Forty-four percent opposed further concessions to Israel, even if Abbas said it would be in Palestinian interests, according to the poll, which had a margin of error of three percentage points.
Punishment Warned
While negotiators met yesterday to try to defuse the crisis, Israel responded to Abbas's renewed diplomatic crusade by halting ministerial-level meetings and warning of punitive action against the Palestinian Authority. An Israeli official said yesterday that Israel may withhold $75 million in monthly taxes it collects on behalf of the Palestinian Authority.
The Israeli reaction "has also helped Abbas gain popularity by uniting the Palestinian people behind him in confronting these threats," Shaheen said.
Neither Abbas nor Netanyahu faces elections and according to Hebrew University's Diskin, the prospect of Israel's government unraveling over a collapse of talks appears dim.
"None of Netanyahu's coalition partners are projected to do any better, and are more likely to lose some seats in a vote," he said.
Even if Hatenuah, the party of Israel's chief negotiator, Justice Minister Tzipi Livni, quits the government, Netanyahu's coalition will still command a Knesset majority.
Faltering Talks
While Netanyahu and Abbas score points at home for digging in to their positions, in the longer term, that support could evaporate if the negotiations impasse leads to new fighting, either in the diplomatic arena, where the Palestinians might ramp up their statehood campaign, or a third Palestinian uprising against Israel.
A full-blown uprising is unlikely because Abbas and his Fatah movement would be wary of giving radical Palestinian groups an opportunity to take advantage of potential chaos to gain strength in the West Bank, a senior Israeli intelligence official said this week. At the same time, the West Bank and Gaza are combustible, and it's impossible to predict what could set them off, the official said, speaking anonymously because he was not authorized to be identified.
Bleak Future
Professor Ahmed Rafiq Awad, a media professor at Al-Quds University in Jerusalem, sees a grim future if negotiations fail. He lays out four possible scenarios: more settlement construction and deadly Israeli raids in the West Bank; crippling sanctions on the Palestinian Authority to punish it for its diplomatic campaign; an unprecedentedly "painful" uprising; and a limited regional war that might lead to some kind of agreement between the sides.
Kerry, who began the talks aspiring to a final accord by the end of April, has himself warned that failure to reach an agreement in the current round of negotiations could lead to a new Palestinian intifada, or uprising.
"Does Israel want a third intifada?" he asked in a Nov. 7 television interview. "The alternative to getting back to the talks is the potential of chaos."
Before it's here, it's on the Bloomberg Terminal.
LEARN MORE