CBS Taps the Real Stephen Colbert as Letterman's Replacement
By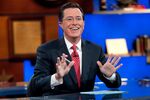 What is late-night host Stephen Colbert like when he's not in character as the cable-news blowhard Stephen Colbert? Viewers are about to find out.
CBS has named Colbert as the next in line for the Late Show, a move that comes less than a week after David Letterman announced on the air that he will be retiring from late-night comedy when his current contract expires next year. The quick choice of a Late Show successor will give Colbert plenty of time to figure out how his version of the show will differ from Letterman's long-running institution. But there's one thing you can bet on, according to industry observers: Colbert is unlikely to be hosting in character as he does on Comedy Central's The Colbert Report.
"He's going to have to come out of character," says Robert Thompson, director of Syracuse University's Bleier Center for Television & Popular Culture. "It would not make sense to do an hour-long show like the Late Show in the satirical Bill O'Reilly mode. The Stephen Colbert that everyone loves is the 'Colbert' in quotation marks. It's going to be interesting when he has to pull this off himself. It's going to be a real challenge."
So what is Colbert like when he's not in character? Recently, Mediaite compiled a handy video guided of clips over the years of Colbert giving TV interviews out of character, including an appearance with Letterman on the Late Show in 2005.
What comes across in the clips, aside from Colbert's affability and wit, is that he seems genuinely more erudite than your average late-night host. And that might not be such a bad thing. What CBS has learned over the years, says Thompson, is that you can't simply beat NBC's Tonight Show by putting on a more interesting version of the show with a more interesting host. You have to do something different.
"Trying to out Tonight Show the Tonight Show is not the right way to go," says Thompson. "In some ways the best thing about this decision is that Colbert can really do something different."
Here's a rundown of how the late-night ratings currently stand. At the moment, Jimmy Fallon is leading a Tonight Show resurgence. Of course, things could look quite different by the time Colbert takes over next year. He will be coming to CBS with a significant fan base, particularly in the key 18 to 49-year-old demographic.
"There are enough people out there who love Colbert that if every one of them watches on CBS and they can get a bunch more viewers who never found Comedy Central to discover him, it could work," says Thompson. "You don't need 30 million people to make these things a hit."
In the meantime, Colbert is already channeling his inner Letterman. "I'm thrilled and grateful that CBS chose me," Colbert said in today's press release. "Now, if you'll excuse me, I have to go grind a gap in my front teeth."
Before it's here, it's on the Bloomberg Terminal.
LEARN MORE