Angelus Cuts Output of '13 Flagship Wine to Protect Brand
Guy Collins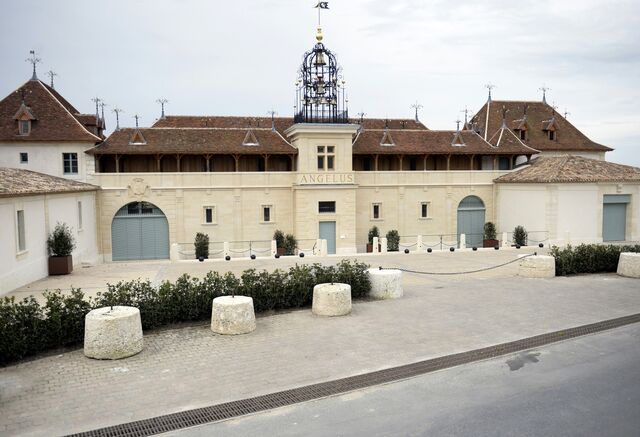 Chateau Angelus, a Saint-Emilion estate promoted to top status of Premier Grand Cru Classe A in 2012, cut output of its main wine by 40 percent to 45 percent in 2013 to protect a vintage it says is "easy drinking."
Cold weather and rain during flowering reduced yields on the vines, while grape selection during harvest further restricted available fruit, according to owner Hubert de Bouard de Laforest. Proportionately more grapes went into the estate's second and third labels to boost quality in the flagship wine.
While the Liv-ex Fine Wine 50 Index, a benchmark for top Bordeaux wines from the left bank of the Gironde estuary, is heading for its eighth straight month of declines after falling 3 percent last year and 10 percent in 2012, collectors have shown appetite in recent months for wines from the right bank of the Dordogne such as Saint-Emilion and Pomerol, often made in smaller amounts than left-bank clarets. They are now focusing on how the wines from the 2013 vintage will be priced.
"We have to feel the market," de Bouard said in an interview in Bordeaux last week during the presentation of the vintage to the wine trade. "The consumers are very sensitive with the price. They will be happy with the quality, but they are sensitive."
He described the 2013 Angelus, now six months on from the harvest, as "much better than people could expect," with pronounced fruit and low alcohol.
Release Prices
"It's really a consumer vintage," he said. "It's a vintage with freshness, elegance, soft tannins. It's not maybe a blockbuster, but to balance the other vintages, we need this kind of vintage." Overall yields on the estate were down about 20 percent, he said.
Chateau Angelus priced its 2012 vintage at 180 euros ($250) a bottle from Bordeaux wholesale merchants, up from 138 euros for its 2011, according to Liv-ex data. That reflected the estate's promotion to a higher classification in September 2012, which instantly boosted prices of back vintages.
Its release prices for the 2010 and 2009 vintages, both highly rated in the region by international wine critics including Robert Parker, were 225 euros a bottle and 210 euros respectively, while the 2008 was released at 59 euros a bottle, according to Liv-ex data.
Estate Promotion
While few leading wine estates have yet announced prices for 2013, Chateau Pontet-Canet in Pauillac set the early tone last month by pricing its new vintage at 60 euros a bottle, unchanged from its 2012 vintage. Chateau Gazin in Pomerol last week cut the release price of its 2013 wine to 38 euros a bottle, down 3 percent from 2012, according to Liv-ex.
The promotion of Angelus in September 2012, along with Chateau Pavie, brought it alongside Chateau Ausone and Chateau Cheval Blanc in Saint-Emilion's top tier of wine producers. The new rankings replaced a classification in force since 1996.
The move lifted prices of older vintages such as 2007 and 2008, as investors sought to obtain stock of the wine.
While a case of 2007 Angelus sold for 1,589 pounds ($2,670) on Liv-ex in March, a 10-month low, it is still more than double the 780 pounds a case for which it sold on Liv-ex in November 2009, as it first started trading on that platform.
Angelus 2007 is the second-cheapest of the estate's wines over the past 10 years, ahead only of the 2011 vintage, according to data on Liv-ex's Cellar Watch website.
The 2007 Angelus was given a 92 rating on the 100-point scale used by U.S. critic Robert Parker in an online tasting note in April 2010, lower than the score assigned to at least eight other vintages in the past 10 years.
De Bouard's family traces its connection with the vineyard back through eight generations to the late 18th century, according to its website. The current property took shape during the 20th century, when the family's Chateau Mazerat estate absorbed a neighboring plot of vines known as L'Angelus.
"We are farmers," de Bouard said last week. "I want to stay at Chateau Angelus for as long as possible."
Before it's here, it's on the Bloomberg Terminal.
LEARN MORE