Ally's Weak IPO Still Turns a Profit—for U.S. Taxpayers
by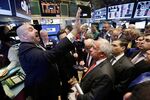 Ally Financial was the fizzled IPO a U.S. taxpayer can feel slightly good about.
The auto-loan company that was once the financing division of General Motors dipped as much as 5 percent in its stock market debut after pricing shares at $25 and raising $2.38 billion late Wednesday. The stock closed 4 percent lower, finishing at $23.98.
With the initial public offering, the Treasury sold 95 million Ally shares, and taxpayers made a $500 million profit on the $17.2 billion bailout that the lender, then known as GMAC, required during the financial crisis as a result of its mortgage portfolio. Ally had repaid $15.3 billion prior to its public offering. The bailout's "most important goal was to stabilize the financial system and prevent a second great depression, not to make a profit," the Treasury said in a statement.
GM accounted for 39 percent of Ally's auto loans and leases last year, highlighting the lack of diversity in the company's portfolio compared with the loan books of rivals. Since the 2008 financial crisis, big banks have also boosted their exposure to the auto industry. Wells Fargo and JPMorgan Chase are now the two largest players. Chrysler switched its financing business from Ally to Banco Santander early in 2013, a further blow to the recovering Detroit-based lender.
In January, meanwhile, the government sold $3 billion worth of Ally shares, reducing the public's stake in the company to 37 percent. The IPO further reduced the Treasury's position to about 17 percent. The department said it "will continue to evaluate exit strategies" for that stake.
Before it's here, it's on the Bloomberg Terminal.
LEARN MORE