Yum! Brands Gets Ready to Try Selling Chicken Without the Colonel
by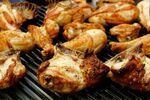 As KFC loses steam in the U.S., could parent company Yum! Brands be working on a new chicken chain to better compete against the fast-growing Chick-fil-A? That's the speculation around a new sandwich restaurant the company has opened in Arlington, Tex., called Super Chix.
For its part, Yum insists this is merely a one-off location for a new concept it's testing for the overseas market. And the chicken sandwich shop isn't the only pilot program. A spokeswoman said Yum will "be exploring others in the near future for international purposes, including a Banh Shop (Asian subs), also in the Dallas area." That's right, the company behind KFC, Pizza Hut, and Taco Bell is weighing a move into banh mi—but fast-food diners in the U.S. will have to travel abroad or head to Dallas for a taste.
It seems odd that Yum would test Super Chix and Banh Shop in Texas if there are no plans to expand the concept in the U.S., but there is a plausible explanation: Yum's New Concept team—led by Scott Bergren, chief executive of Pizza Hut and Yum's chief innovation officer—is based in Dallas, so turning Texas into a test market makes it easier to monitor operations and product development.
Super Chix's menu makes it look a lot like a poultry-focused version of the Five Guys hamburger chain, and Ad Age compared it to KFC's nemesis, Chick-fil-A. Customers start with a basic chicken burger and get to pick toppings, along with the expected options of fries or chicken tenders. The marketing seems more premium than KFC; Super Chix heralds its signature product as "the last true chicken sandwich." It's just not the last American chicken sandwich.
Before it's here, it's on the Bloomberg Terminal.
LEARN MORE