Why Republicans Love Obama's Post Office Plan
By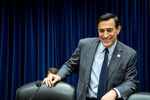 Representatives from the Obama administration can usually expect a chilly reception, at best, when they testify before U.S. Representative Darrell Issa (R-Calif.) and his fellow Republicans on the House oversight committee. But Brian Deese, deputy director of the White House Office of Management and Budget, got just the opposite on Tuesday.
Deese appeared before the committee to discuss the president's postal reform proposals in his 2015 budget. Rather than attack, Issa and company emphasized how the White House plan harmonizes with their own effort to fix the troubled USPS, which reported a $5 billion loss last year.
The House Republicans are especially agreeable when it comes to ending Saturday letter delivery. "The administration's proposal includes giving [the Postal Service] the authority to move to five-day delivery," Deese testified. "It's our belief that this needs to be part of a comprehensive and balanced plan."
"Right," replied Issa. "We concur with that. Would you say the president's proposal in the budget would be considered comprehensive?"
"Yes, sir," Deese said. "We believe that the proposal we put forward is comprehensive and balanced."
The friendly banter continued when the topic turned to whether the USPS should continue to prefund its future retiree health-care benefits. Since 2011 the agency has defaulted on its annual $5 billion prepayment, which is one of the reasons why its overall numbers have been so terrible.
Some Democrats and their allies in postal union circles have made the dubious argument that the prefunding requirement is the primary cause of USPS's fiscal troubles. If eliminated, they contend, the agency's fiscal woes would largely be over. That's not how the White House or the Republican oversight committee members see it. They fear that the USPS, which has lost more than 25 percent of its volume since 2008, might eventually need a taxpayer-funded bailout to make good on its long-term obligations.
Essentially the White House and the Republicans would both like to stretch the prefunding payments out over a much longer period so the payments are more affordable. "I like to tell postal workers who complain about this, 'Don't you want to be sure there's money there for your health coverage?'" said Republican Representative Blake Farenthold of Texas. Deese agreed: "To the degree that prefunding is financially viable, it is a wise financial decision."
This left Democrats on the committee in the awkward position of attacking a plan put forward by the leader of their own party. "I believe the mail should be delivered on time every day, including Saturday," said Representative Carolyn Maloney, a Democrat from New York. Representative Gerry Connolly (D-Va.) pointed out that he has introduced a bill that has 210 co-sponsors, including some Republicans, to preserve Saturday delivery. "Good luck in trying to persuade Democrats into five-day," he said.
Perhaps. But the White House and House Republican leaders such as Issa are much closer on postal reform than they were last year when Connolly introduced his bill. The Virginia Democrat might want to check with his allies and make sure they're still on board.
Before it's here, it's on the Bloomberg Terminal.
LEARN MORE