Swedish Deflation Shock Delivers Blow to Ingves on Prices
Johan Carlstrom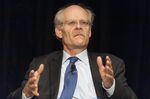 Riksbank Governor Stefan Ingves's pledge that Sweden will avoid a deflationary spiral was overshadowed by a report today revealing that prices sank twice as much as policy makers had estimated.
Consumer prices dropped 0.6 percent in March from a year earlier, the most since November 2009, Stockholm-based Statistics Sweden said today. The krona plunged as much as 1 percent to 9.0668 after the numbers were published.
Ingves, who held the Riksbank's main rate at 0.75 percent for a second meeting yesterday, said in an interview after the decision that he was confident inflation will pick up as the largest Nordic economy recovers and producers start demanding higher prices to cover their costs.
"It's of course associated with uncertainty when prices will start to rise and by how much, but the picture is clear that that is what will happen," Ingves said yesterday in Stockholm.
The Riksbank signaled yesterday it was moving closer to easing policy, with headline inflation forecast to remain below its 2 percent target until mid-2015. The bank's forecast indicates a 36 percent chance it will lower its main rate again in July, according to Nordea Bank AB.
Ingves said the combination of low rates and an economic recovery will encourage manufacturers to start raising their prices.
'Not Sustainable'
"Costs per produced unit and things like that are significantly higher than the pace of inflation," Ingves said. "That's not sustainable in the long-term," and "sooner or later" companies will charge customers "for these cost increases and that will happen when demand picks up," he said.
Two of the Riksbank's six board members, deputy governors Karolina Ekholm and Martin Floden, voted to cut the benchmark to 0.5 percent. The rate is seen at 0.66 percent in the third quarter, 0.65 percent in the fourth quarter and 0.73 percent in the first quarter 2015, the Riksbank said. The bank signaled yesterday it will start raising rates in "around a year."
Ingves last cut rates in December to ward off deflation. Though he has since said the bank's main focus is inflation, he repeated his warning that household debt is "a key issue for us and will remain so for the foreseeable future."
The bank's message that it will eventually raise rates is working against its effort to spur inflation, according to Michael Grahn, an analyst at Danske Bank A/S in Stockholm.
Household Debt
"What they ought to say is that we really want to make sure that this will happen so we will keep the policy rate low for a very, very, very long time," he said. "So that they really manage to push down market interest rates and inject a bit of stimulus into the economy."
The bank raised its forecast for household debt, which has almost doubled since the mid-1990s, fueled by surging house prices. Debt will grow to 180 percent of disposable income by the second half of 2016, the bank predicted.
The Riksbank has teamed up with the government and financial watchdog to come up with a plan to prevent a further build-up of debt and make banks more crash resistant. It will present a "road map" next month.
"The experience in many other countries is that if one fails to deal with this, and debt becomes too high, there will be big economic problems and we would then probably end up with big problems with monetary policy and the inflation target," Ingves said.
Deflation Issue
Stagnant price growth is becoming an issue in Europe, where the European Central Bank revealed last week it was considering quantitative easing to fight deflation as the 18-nation bloc emerges from its recession. The bank kept its key rate at a record low 0.25 percent.
Still, the Riksbank raised its growth forecast, predicting an expansion of 2.7 percent this year, while lowering next year's estimate to 3.2 percent from 3.6 percent. The bank sees unemployment at 7.9 percent this year and 7.3 percent next year, 0.1 percentage point higher than the previous estimate.
Before it's here, it's on the Bloomberg Terminal.
LEARN MORE