Nationstar Sees More Deals as Regulators Investigate
Kathleen M. Howley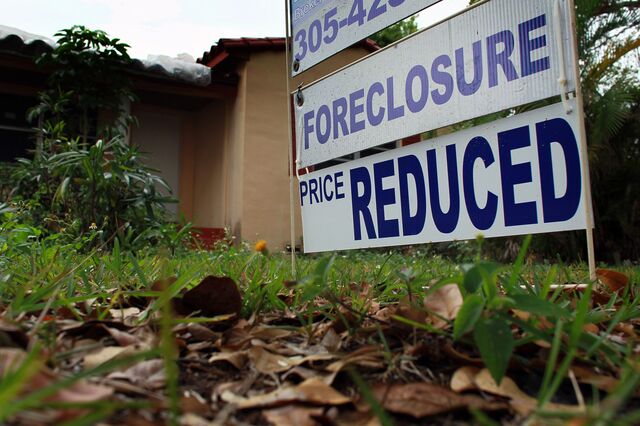 When Jay Bray was a linebacker on his high school football team in a small town in Georgia, he said he drove a shoulder into any opponent in his path.
Bray, now 47, runs Lewisville, Texas-based Nationstar Mortgage Holdings Inc. with the same urgency.
"My father always told me, 'Go out and hit something that's moving,'" said Bray, chief executive officer of the company, which collects payments on 2 million home loans. "That's what we do. We don't need 25 meetings to figure things out. I walk out of meetings with either a decision made or a clear next step on how to get there."
The value of loans handled by Nationstar, the second-biggest non-bank mortgage servicer, has tripled since the firm's initial public offering in March 2012. Last month, the New York Department of Financial Services announced that Nationstar's "explosive growth" may put homeowners at risk if the firm doesn't have the capacity to service all the loans. As regulators probe Nationstar and Ocwen Financial Corp., the biggest non-bank servicer, the companies are performing better than banks at handling delinquent loans -- the toughest task in the servicing trade.
Nationstar and Atlanta-based Ocwen, known as special servicers because of their focus on rehabilitating soured loans, have modified mortgages at about twice the rate of banks, according to a March 26 report from Fitch Ratings Inc. that looks at performance back to 2010. When mortgages go into foreclosure, the timeline for non-banks on average is shorter, reducing investor losses, according to the report.
Nationstar's DNA
"Nationstar was built to handle higher-touch servicing -- it's in its DNA," said Douglas Harter, a director and servicing analyst at Credit Suisse Group in New York. "They're better at getting people through the modification process and getting resolutions because they started life focused on higher-risk loans."
In the last year, Nationstar has purchased $305 billion in mortgage servicing rights, or MSRs, as Wells Fargo & Co., Citigroup Inc. and other banks, facing regulations and profit pressures, retreat from the $9.4 trillion business of collecting payments and overseeing foreclosures. Two years ago, special servicers held MSRs on less than 2 percent of U.S. mortgages. Now, they control 10 percent, with most of those held by Nationstar and Ocwen.
Scaring Regulators
That pace of growth is "scaring" regulators, who see it as a threat to their four-year effort to improve how banks handle loans in default, said Karen Shaw Petrou, managing partner of Federal Financial Analytics Inc., a public policy research group in Washington. As the nation's largest banks come into compliance with the terms of a 2012 settlement over allegations of foreclosure abuses, the lenders are selling their servicing assets to companies like Nationstar or Ocwen.
On March 5, Benjamin Lawsky, New York's top financial regulator, sent a letter to Nationstar's Bray requesting detailed information about the firm's servicing performance and staffing.
"We have received hundreds of complaints from New York consumers about your company's mortgage practices, including problems related to mortgage modifications, improper fees, lost paperwork, and numerous other issues," the letter said.
On that day, Nationstar shares dropped 2.5 percent to $30.30, from the previous day's close.
"We're regulated by 50 states, and we have been since the beginning," Bray said. "We're going to work with his office to address any items we need to."
Fewer Complaints
Ocwen, which received a request from Lawsky for information on Feb. 6, said in a statement it is fully cooperating with his office.
On March 10, Compass Point Research & Trading LLC, citing data from the Consumer Financial Protection Bureau, said Walter Investment Management Corp., Nationstar and Ocwen had the fewest customer complaints among 11 servicers, most of them banks, when measured against the amount of delinquent loans in their portfolios.
Walter Investment's Green Tree Servicing, the fourth-largest non-bank servicer, was the top performer with 0.8 percent complaints, followed by Nationstar at 1.3 percent and Ocwen at 2 percent. The average rate for the servicing industry was 4.3 percent, according to the March 10 report.
"The large-bank servicers were built to handle large quantities of loans but they didn't expect they would have to handle large quantities of delinquencies," said Harter of Credit Suisse.
Subprime Lender
Bray grew up in Austell, Georgia, where his father worked for the railroad and his mother was a secretary at the elementary school. He was the first in his family to go to college, graduating from Auburn University in Alabama in 1988 with a bachelor's degree in accounting.
"I realized pretty early on, probably my first semester at Auburn, that the accountants were the guys who were always getting the jobs," Bray said.
Right out of college he took a position in Atlanta as an auditor for Arthur Anderson LP before moving to a regional bank bought by NationsBank of Charlotte, North Carolina. In 1998, NationsBank purchased BankAmerica and changed its name to Bank of America Corp.
In 2000, he left the bank for Centex Home Equity Co., a subprime lender in Dallas, and served as chief financial officer. Centex had a small department dedicated to servicing some subprime loans it originated. Like other lenders, Centex engaged in servicing as a hedge against a decline in origination volume.
Fortress Deal
Hedge fund Fortress Investment Group LLC bought Centex for more than $500 million in July 2006 to add to its stable of companies that gave mortgages to people with low credit scores. Fortress renamed the company Nationstar that year.
A month after the Fortress deal closed, U.S. home prices started falling and subprime defaults began surging. In 2007, as mortgage-backed securities tumbled in value and banks faced billions of dollars in losses, the lending spigot went dry.
"Those were dark days," said Bray, who pared costs to the point that two-thirds of Nationstar's 2,200 workers lost their jobs. "We were in the same situation a lot of our customers faced with their mortgages. We were looking for quarters under the couch cushions."
Nationstar survived the credit freeze by turning itself into a full-time servicer of defaulted mortgages. Its staff, by focusing on developing relationships with clients and offering generous modification terms, already had some success in cajoling tardy borrowers to make payments.
Basel III
"We knew there was going to be a need for guys like us who could work with people to lower delinquency rates," Bray said.
At the end of 2008, Nationstar made its first servicing rights deal on a $13 billion portfolio from GMAC Mortgage LLC.
"I wouldn't say we were out of the danger zone, but it made us sleep better at night," Bray said.
Nationstar's makeover got a boost in 2010 when the Basel Committee on Banking Supervision, the standard-setter for more than two dozen central banks, approved its third set of rules to prevent the type of financial shock seen in 2008.
Basel III stiffened capital and liquidity requirements for banks, forcing them to hold more assets to buffer against financial setbacks. Under the new rules, MSRs lost value in the tally that determines capital levels. Non-bank servicers like Nationstar don't have to adhere to the regulations.
In March 2012, with Bray installed as CEO, Nationstar held an IPO that raised $233 million. The shares rose 1.4 percent to $14.20 on the first day of trading. Fortress retained about 80 percent of the shares.
Ocwen Wins
Two months later in May, Nationstar seemed the likely winner in a two-year race with Ocwen to be the largest non-bank servicer. Residential Capital LLC, the bankrupt mortgage unit of Ally Financial Inc., agreed to sell MSRs on $374 billion of mortgages to Nationstar for $2.4 billion in the largest-ever servicing transfer.
The deal fell apart when Ocwen teamed up with Walter Investment Management's servicing unit to obtain the MSRs. On Oct. 24, the companies topped Nationstar's price, offering $3 billion and winning the MSRs in bankruptcy court. The agreement made Ocwen the fourth-largest servicer in the nation, ahead of Citibank Inc. and US Bancorp.
In January 2013, Nationstar announced it would purchase $215 billion of mortgage servicing rights for $1.3 billion from Bank of America. While the deal doubled Nationstar's portfolio, it wasn't enough to surpass Ocwen's size.
Doubled Spending
"I'm not a guy who wakes up in the morning thinking, 'I have to be No. 1,'" said Bray. "Once the price got to a point where it didn't make sense for us, we decided to focus on other opportunities, like the Bank of America portfolio."
To handle the new loans, Nationstar more than doubled its spending in 2013 to $1.4 billion and expanded its office space and staff by about 52 percent. The company now has about 7,000 employees.
About 11.9 percent of Nationwide's mortgages were 60 or more days delinquent in 2013, down from 14.1 percent in 2012 and 14.7 percent in 2011, according to regulatory filings. Bray said the improvement is due to both the mix in its portfolio and its policy of modifications.
All that spending has taken a toll on earnings. In 2013, while Nationstar doubled its revenue, profit grew only 6 percent compared with the year earlier.
On Nov. 7, Nationstar shares tumbled 17 percent to $40.75 after the company lowered its 2013 profit estimate, citing a decline in revenue from its lending business because of rising mortgage rates. Yesterday, the shares closed at $30.64.
Bray's Compensation
Bray earned $12.5 million for 2012, including a $6 million bonus, according to regulatory filings. His 2013 pay hasn't been disclosed.
The CEO said he is optimistic that Nationstar will continue to expand. In the next two to three years, banks probably will sell another $1 trillion of MSRs, Bray said.
"In the current regulatory environment, there's more scrutiny on non-banks, and we are going to have to work through that," he said. "I think there is going to be plenty of opportunity for more growth."
Before it's here, it's on the Bloomberg Terminal.
LEARN MORE