Ecuador's President Takes Chevron Fight to U.S.
Paul M. Barrett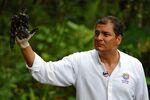 Ecuadorian President Rafael Correa is bringing his populist campaign against Chevron to the oil company's home country, and a bipartisan group of U.S. senators has welcomed him by challenging Correa's human rights and anti-free speech record back in Ecuador.
For years, Correa has used Chevron as a symbol of American imperialism and callousness, pointing to a multibillion-dollar oil pollution judgment imposed on the company by an Ecuadorian court in 2011. Last year the Ecuadorian government launched a worldwide boycott-and-publicity blitz against Chevron under the banner "The Dirty Hand," a reference not only to the company's alleged environmental culpability but also to a ritual in which Correa visits contamination sites in the Amazon rain forest and dips his hand into a pool of waste oil.
Chevron has refused to pay the judgment, now valued at $9.5 billion, alleging that it was procured fraudulently by an American plaintiffs' attorney named Steven Donziger. Whatever contamination remains in the jungle, according to Chevron, is actually the responsibility of Ecuador's national oil company, Petroecuador. Chevron is pursuing an international arbitration case against the government of Ecuador and has successfully sued Donziger in New York, where a federal judge labeled him a civil racketeer in a ruling last month. Donziger denies wrongdoing and has appealed the New York ruling.
Now, on the occasion of a Correa visit to the U.S., which includes appearances at several university campuses, a group of eight senators—four Democrats and four Republicans—has issued a letter condemning Correa's record on human rights and civil liberties. The senators criticized Correa for ending the U.S. foreign aid mission in Ecuador and for the convictions of a trio of political opposition figures on charges of defaming Correa's government.
Ecuadorian journalist Fernando Villavicencio described the raid on his family's home carried out by Ecuadorian authorities in a harrowing interview in December with the website Buzzfeed. Ecuador passed a repressive communications law in 2013 that outlaws "media lynching," or the dissemination of information "with the purpose of discrediting or harming the reputation of a natural or legal person."
"These convictions are incompatible with the principles enshrined in the Inter-American Democratic Charter and the American Declaration of the Rights and Duties of Man that the Republic of Ecuador has signed and ratified," the senators wrote. They also scolded Correa for describing opposition candidates in recent municipal elections as fascists.
The senators signing the April 8 letter were Democrats Richard Durbin (Ill.), Robert Menendez (N.J.), Tim Kaine (Va.), and Patrick Leahy (Vt.) and Republicans Marco Rubio (Fla.), Mark Kirk (Ill.), Jim Inhofe (Okla.), and John Cornyn (Texas). The letter doesn't refer to Chevron.
Adding another weird twist to tensions between the U.S. and Ecuador, Julian Assange, the founder of WikiLeaks and a harsh critic of American foreign policy, remains holed up in Ecuador's embassy in London. Ecuador granted Assange asylum in June 2012, when he fled to the embassy to avoid extradition to Sweden, where he is wanted for questioning over rape and sexual molestation charges.
Before it's here, it's on the Bloomberg Terminal.
LEARN MORE