Dimon Says JPMorgan Had 'Tin Ear' Dealing With Regulators
Zachary Tracer and Hugh Son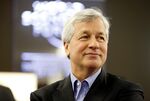 JPMorgan Chase & Co., the biggest U.S. bank by assets, had a "tin ear" when dealing with regulators before settling probes into mortgage lapses and trading losses, Chief Executive Officer Jamie Dimon said.
"Our response generally was, 'We know what we're doing,'" Dimon wrote today in a letter to the New York-based bank's investors. "Well, we should have done more self-examination. We need to be better listeners."
Dimon is seeking to improve relations with overseers after lamenting in prior years that regulation could thwart growth. JPMorgan's earnings last year were marred by more than $20 billion in legal settlements that contributed to the first quarterly loss under Dimon.
The bank missed signals when rivals faced scrutiny and must "do a better job at examining critiques of others so we can learn from other people's mistakes, too," he said.
Before it's here, it's on the Bloomberg Terminal.
LEARN MORE