Comcast's Merger Hearing Was a Sideshow. Now Comes the Real Action
By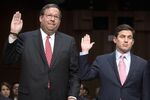 Comcast and Time Warner Cable pitched Congress on their proposed merger Wednesday, and not everyone came away persuaded. "I don't want to get it done," Minnesota Senator Al Franken told Bloomberg TV. "My suspicion is that if they do it, they do it with conditions, but that's not what I want." The fate of the merger rests with two federal agencies, not with the Senate. So it doesn't really matter what Franken wants—not directly, anyway.
The Department of Justice is assessing whether to object to the deal on antitrust measures. When Comcast and Time Warner Cable insist that they aren't competing against one another and that their deal won't reduce the number of choices for, say, broadband-seeking Clevelanders, the true audience is the federal agency deciding whether to sue.
Justice Department officials will gather evidence with the power to subpoena everyone involved. "Because this is treated like an investigation, this is a black box," says Harold Feld, senior vice president of Public Knowledge, an advocacy group opposing the merger. "Nobody knows what's going on."
DOJ could decide not to file charges, or it could decide to challenge the deal in court, as it did with AT&T's proposed acquisition of T-Mobile in 2011. The burden of proof in such a case would be on the government, but it might not get that far. Antitrust regulators might be able to kill a deal just by indicating they want to take the proposed merger to court. This is partly because the agency has pretty good chances of winning and partly because a trial would force the companies to expose all kinds of inconvenient confidential information.
The most likely course might be a middle ground, where the Justice Department wrangles with the companies over what conditions it needs not to challenge the deal outright. Comcast could give up some customers or agree not to take certain actions.
But competition isn't the only concern. The deal could be bad for America without running afoul of antitrust laws: What if a single cable giant makes it harder for independent programmers without squashing competition in general? It's the Federal Communications Commission's job to sort this out. When Comcast trumpets an increase in Internet speeds or reminds everyone of its program to expand broadband access to poor people, it's done with a wink in the direction of the FCC. Unlike the Justice Department's investigation, the FCC's review process is ostensibly public. The burden is on the companies to prove that this is an actively good idea rather than just defend themselves against an antitrust complaint.
Given that this happens outside Congress's jurisdiction, why even bother with Wednesday's hearings? Because senatorial skepticism registers throughout Washington, even if the agencies involved are not directly beholden to lawmakers. Sure, the review process is officially nonpolitical, "but expecting people in Washington to ignore politics is like expecting people in sports to ignore the weather," says Feld. "It's a factor."
Before it's here, it's on the Bloomberg Terminal.
LEARN MORE