Berlusconi's Rehabilitation Up to Judges Before Voters Get Say
Andrew Frye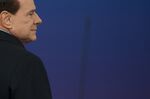 Former Italian Prime Minister Silvio Berlusconi, convicted of tax fraud last year, faces a first test on the road to rehabilitation today before voters get their say in European elections next month.
Lawyers for Berlusconi, 77, are due to appear at a hearing at 5 p.m. in Milan to discuss how the billionaire media magnate will serve his one-year prison sentence. Due to his age, Berlusconi probably won't go to jail, leaving house arrest or community service as options. The judges will retire after the hearing and announce their decision in coming days.
The ruling will impact on Berlusconi's influence in the May 22-25 European Parliament elections. His Forza Italia party has declined in opinion polls as the ex-premier focuses on his legal problems. House arrest would restrict or bar him from the campaign trail, while the spectacle of Berlusconi on a service assignment might dent the aura of success that propelled him to three general election victories.
House arrest would make it "much more difficult for him to do an election campaign," Giovanni Orsina, a history professor at Luiss Guido Carli University in Rome who has written a book about Berlusconi, said by phone. A community service order would be "more humiliating, but less limiting to his personal freedom," he said.
Berlusconi is facing judicial punishment for the first time after wrangling with prosecutors for much of his 19-year tenure in parliament. The tax-fraud conviction, confirmed in August by Italy's top court, led to his expulsion from the Senate and loosened his grip on Italian political power.
Poll Slip
Berlusconi has denied all wrongdoing and said his legal troubles amount to political persecution. As part of the tax-fraud sentence, he was banned from holding public office for two years.
Forza Italia slipped to 18.6 percent in an April 7 poll of European election voting intentions by IXE, compared with 21.5 percent on Jan. 10. Berlusconi won nearly 31 percent of the vote at the head of the second-place coalition in Italy's February 2013 general election. Since then, key allies have deserted him and voters have turned away.
Berlusconi is appealing a separate conviction for abuse of power and engaging a minor in prostitution. In October, he was indicted in Naples on charges he bribed a senator to help topple Romano Prodi's government in 2008. In Italy, convictions aren't considered definitive until all appeals have been exhausted. Berlusconi has denied wrongdoing.
Before it's here, it's on the Bloomberg Terminal.
LEARN MORE