Augusta's Payne Supports St. Andrews Club Adding Female Members
Michael Buteau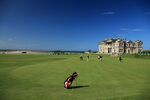 Augusta National Golf Club Chairman Billy Payne said he supports a movement by Scotland's Royal and Ancient Golf Club of St. Andrews to add women as members of its private club, as his did two years ago.
Payne is a member of the R&A, a group which also governs the rules of golf outside of the U.S. and Mexico.
Members of St. Andrews in September will vote on a motion to admit women, the club said on March 26.
"I bet you can guess how I'm going to vote," Payne said during a press conference, a day before the start of the Masters, golf's first of four annual major events that is held at Augusta National each year.
Four of the nine clubs that stage the British Open, including last year's host Muirfield, haven't allowed women members. At the 2013 event, Scotland's First Minister Alex Salmond called the policy "indefensible."
Augusta National invited former U.S. Secretary of State Condoleezza Rice and Darla Moore, a Rainwater Inc. financier, to join its ranks in August 2012, ending almost a decade of scrutiny over its all-male membership. The move was lauded by many, including Tiger Woods, the first black golfer to win the Masters, who said it was "the right timing."
"We readily and joyously welcomed our lady members when that happened a couple years ago, and it remains a very good decision on our part," Payne said. "We are so delighted, and I know I speak for everyone, that they are members."
Royal Troon in Scotland and Royal St. George's in England are the other clubs in the British Open rotation with all-male memberships.
Before it's here, it's on the Bloomberg Terminal.
LEARN MORE