Penny-Pinching Delta Just Might Splurge on New Jets
By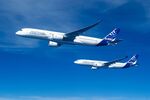 Under Chief Executive Richard Anderson, Delta Air Lines has become known as an opportunistic airplane purchaser, scouring the used market for cheap 1980s-era jets and buying only new models with proven track records. That's why Delta's request for sales proposals from Airbus and Boeing for as many as 50 new long-haul jets is worth watching.
Two newer wide-body planes—Boeing's 747-8 and the twin-deck Airbus A380—aren't in contention given their size. "They're just much too large," says Delta spokesman Michael Thomas. A third airplane, Boeing's new 777X, won't make the cut because it's too new and won't begin commercial service until 2020. Delta saw what happened with the expensive teething pains in the 787 Dreamliner program.
But that was then. The 787 and its redesigned battery system is moving into more fleets, helping to conserve fuel given its lightweight technologies. In 2003, Northwest Airlines—where Anderson was CEO at the time—ordered 18 787-8 Dreamliners and then deferred the order six years later amid the financial recession and a merger with Delta. That order remains on hold at least until 2020, suggesting that Delta may still want the Dreamliner in the future.
Boeing is also building a larger 787-9 that can carry an additional 40 passengers farther than the smaller 787-8. The company showed off the paint job of its first 787-9 on Sunday for launch customer Air New Zealand, which will get the plane later this year. Boeing plans to deliver an even larger 787-10 in 2018. All those would seem like good fits for Delta.
At Airbus, meanwhile, Delta will have options: The A330 comes in two sizes, and the newer A350 comes in three sizes. The A350 is scheduled to enter service with Qatar Airways this year and has been performing well in its test flights. Delta would consider that model given that it will have a service record to consider by the time Delta would take delivery, according to Thomas.
The request to the manufacturers, of course, doesn't obligate the carrier to buy any planes from either one. Any order would not commence delivery until probably 2020 at the earliest. It's a good bet that Delta may buy something, given that airlines are working to retire four-engine jets, such as the 747 and Airbus's A340 family, due to fuel prices. Delta's fleet of 16 747s is more than 20 years old, while its 58 767-300ERs are nearly 18 years old.
Delta's famously penny-pinching ways, coupled with its enormous financial success, mean the airline's endorsement could sway other airlines to follow its lead, giving the successful bidder an even bigger PR coup than the ordinary sales showdown.
Before it's here, it's on the Bloomberg Terminal.
LEARN MORE