pursuits
Everyday Peeps Break Out of the Easter Basket
Bite-size marshmallow treats will be sold year-round
By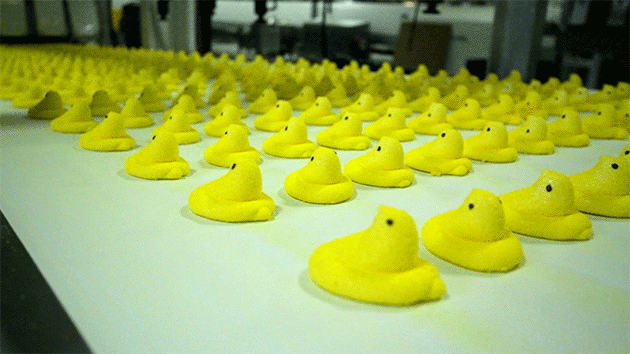 Peeps, those fluffy marshmallow chicks that have been an Easter-season candy aisle staple for decades, will soon be available year-round. On May 1, manufacturer Just Born will launch a bite-sized, flavored version of the old-time candy. Peeps Minis will come in three flavors: strawberry crème, chocolate crème, and sour watermelon.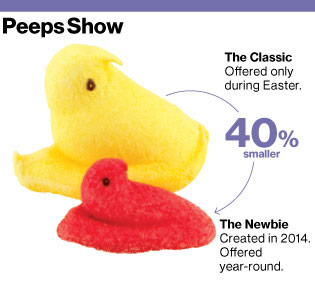 "There's no reason why Peeps can't be a strong everyday brand," says Just Born spokesman Matthew Pye.
The seasonal brand could benefit from a year-round presence, says Matthew Hudak, an analyst at Euromonitor International, which estimates that U.S. sales of Peeps have stood at about $63 million over the last two years. "It's stuck where it is now, so expanding Peeps beyond Easter makes sense," he says, especially in the smaller size. (Just Born, which declines to reveal its sales figures, says revenue is vulnerable when Easter falls early on the calendar.) Miniature candies, from Snickers Bites to Kit Kat Minis, are popular with consumers and sell well, Hudak says. And competition is scarce  in the world of marshmallow candies.
The company has tried to keep the marshmallows on store shelves beyond the spring. In 2013, Just Born added lemonade- and bubble gum-flavored Peeps for the summer. This helped boost factory sales by about 18 percent. There also are themed Peeps for July 4th, Halloween, and Valentine's Day. Still, Pye says, "Retailers haven't considered us for other holiday seasons."
In 2013, Just Born conducted "extensive consumer focus-group testing and the response was overwhelmingly positive in favor of" a year-round product, according to Pye. About 75 percent of the 2 billion Peeps manufactured every year are sold around Easter and, according to the company, about one-third of them aren't even eaten—they're used in crafts projects. An unknown number explode each year in the microwave at the hands of marshmallow sadists.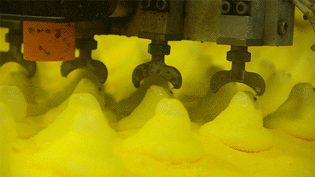 Much of the brand's identity is tied up in Just Born's trademarked chick and bunny shapes. The candies themselves are simple and contain three main ingredients: sugar, corn syrup, and gelatin. There's also a small amount of coloring, preservatives (potassium sorbate), flavoring, and carnauba wax (used for the chicks eyes). The candy was created by the Rodda Candy Company, which Just Born acquired in 1953. The original chicks had wings, which were later removed so the chicks could be mass-produced in rows of five. In the 1980s, Just Born added an Easter bunny shape. In the 1990s, such new colors as lavender and blue and flavors like vanilla were introduced. Peeps, which take only six minutes to make, have a shelf life of about two years.
It's not the only candy in Just Born's pantry. The company's best-seller is Mike and Ike. Hot Tamales and Goldenberg's Peanut Chews are other favorites. Together the confections make Just Born the 11th-largest candy maker in the U.S.. "They have just three main brands getting them into that spot, which is incredible," says Sally Lyons Wyatt, a snacks expert at Chicago-based researcher IRI.
Peeps commands the greater brand awareness. Three Peeps & Co. stores, selling all the brands, have opened in the U.S. since 2009. "As we look into future—being available year-round, launching additional Peeps Minis flavors and additional pack sizes," Pye says, "we hope that between that and the continued growth of Peeps' seasonal business, it's quite possible that the Peeps brand will eclipse Mike and Ike."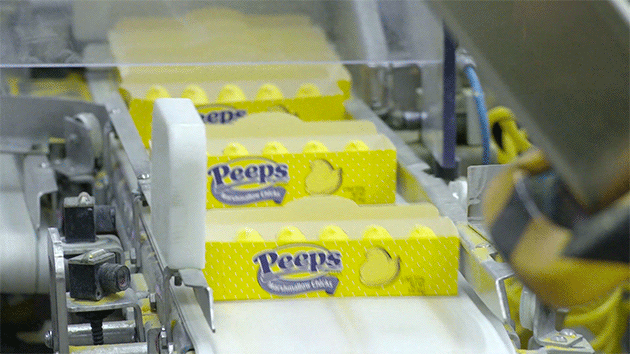 Before it's here, it's on the Bloomberg Terminal.
LEARN MORE