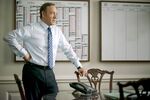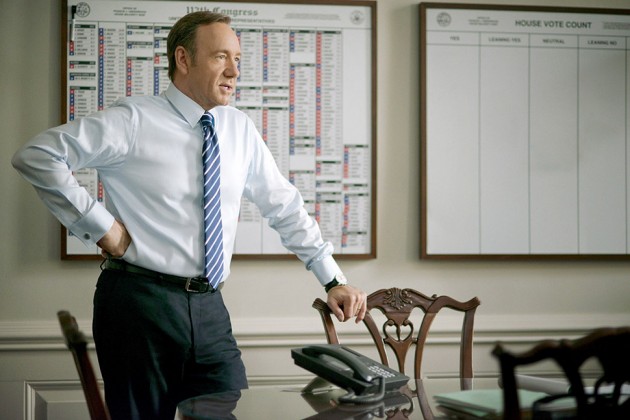 House of Cards, the series that put Netflix on the original-programming map, is threatening to leave Maryland after the state legislature failed in the final minutes of its session on Monday to approve additional money producers wanted for the show's third season.
The Kevin Spacey-led political thriller has delayed the filming of its next season until June, waiting to see whether the state would allocate extra incentives to lure the production. In the end, negotiators from the Senate and House of Delegates could not agree on an additional $3.5 million, leaving the show's producer, Media Rights Capital, with about $15 million for a third season. The Washington Post has a delicious chronicle of the last-minute legislative finagling as the session wound to a close. The irony of a debate over House of Cards funding taking place on the same legislative floor at which the show has filmed was not lost on many.
It was unclear whether the $15 million in tax credits would placate Media Rights Capital, which in a February letter threatened to "break down our stage, sets and offices and set up in another state." A spokeswoman for MRC, Megan Duzer, says the company has no comment.
During the show's first two seasons, the state has reimbursed MRC to the tune of $26.7 million for expenses, and some lawmakers have grown weary of the increasing sums lavished on a TV show. The HBO series Veep also films in Maryland and has qualified for about $15.2 million in tax credits over its three seasons. Veep's fourth season will qualify for almost $8 million, according to the Maryland Department of Business and Economic Development.
The agency estimates that production of House of Cards' first two seasons yielded an economic impact of $259 million in Maryland. The show is reviewing Pittsburgh, Chicago, and Toronto as potential cities in which to film if it leaves the state, the Washington (D.C.)-area's Gazette newspaper reported, citing a construction coordinator who testified to a House committee this winter.
Before it's here, it's on the Bloomberg Terminal.
LEARN MORE