With a Third Hotel IPO, Blackstone Rides the Business Travel Rebound
by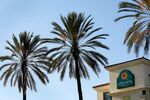 For a sense of how bright the U.S. lodging industry's prospects are at the moment, look at what Blackstone Group has done in the past five months.
In November the private equity firm and two partners took Extended Stay America public, selling about 14 percent of the Charlotte-based chain and raising $565 million. All three firms retained their shares in the company, which they acquired for $3.9 billion in 2010. Blackstone followed that up in December with the bonanza IPO of Hilton Worldwide Holdings, which raised $2.35 billion, a record for a hotel chain.
Now comes La Quinta Holdings, the 46-year-old midmarket hotel chain with 834 properties in 46 states, Canada, and Mexico. La Quinta expects its initial public offering to raise as much as $781 million from the sale of 37.2 million shares, priced from $18 to $21. The stock is set to start trading Wednesday on the New York Stock Exchange. Blackstone took the suburban Dallas-based chain private in 2006 for $3.4 billion. Since then, La Quinta has tripled its number of franchised hotels, which gives the company an income stream from royalties and other fees while avoiding the heavy capital costs of real estate ownership and maintenance. Sales were up 21 percent from 2011 to 2013; in the same period, the average daily room rate went up more than $10; and it's still below competitors.
Blackstone—the nation's largest hotel owner—has been cashing in on a broad rebound in U.S. business travel, which plummeted after the 2008 financial crisis and recession. Traveler demand has been outpacing new room supply, pushing rates up and attracting investors. The firm has remained a heavy buyer in the lodging industry—keeping most of its positions in the chains it has taken public—and retaining Motel 6, which it acquired for $1.9 billion in 2012. The buying continues: Just last week, Blackstone shelled out for 15 additional limited-service hotels in six states under the Hampton Inn, SpringHill Suites, and Residence Inn brands.
Before it's here, it's on the Bloomberg Terminal.
LEARN MORE