Austin or Bust: America's Biggest Cities Lose People to the Urban B-List
By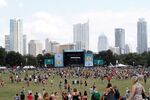 As a professional thirtysomething who has lived in both New York and Los Angeles, I sometimes feel as if everyone I know is hatching plans to flee to somewhere less expensive, less massive, less hectic, and—again for good measure—less expensive. I know people who have moved in recent years from Los Angeles to Charlotte, from Boston to Durham, from New York to Seattle, from the Bay Area to Denver. Thanks to new U.S. Census data, I now know I am not going crazy. The flight to second-tier cities is thriving.
Fresh numbers released late last month give the 2013 population estimates for metro areas. The fastest growth came in regions that host fracking boom towns and retiree meccas, but those areas still have relatively small populations. If you look at the 52 metro areas with more than a million residents, however, the biggest increase in domestic migration from 2010 to 2013 drew newcomers to America's second-tier cities. Below are the 20 fastest-growing large metros. Only three—Dallas, Houston, and Atlanta—are among the national top 10 by population size.

Note the places that didn't make the list: San Francisco, Silicon Valley, Greater New York, Los Angeles, Washington, D.C. Instead, those bigger cities are sending residents to the B-list metros. The census hasn't yet reported county-to-county migration for 2013, but another data set released in February shows the movement between specific areas from 2007 to 2011. For example, here are non-Texas metros sending the most new residents to Austin:

Perhaps this data from the website Trulia, which shows the areas where fewer than a third of homes on the market are affordable to the middle class, has something to do with it:

With wage growth lackluster to nonexistent, there aren't any signs that this affordability crunch will ease much soon. So this shift will continue to change politics and economies around the county. The housing markets in hot second-tier cities are currently the tightest in the country.
Will people start fleeing these growth cities, too, like the man who told CNN Money last week that he's priced out of Austin so he wants to move to Tennessee or North Carolina? Julian Castro, the mayor of San Antonio (third fastest-growing big metro), said at the 2012 Democratic convention in Charlotte (fifth fastest-growing big metro) that he thought migration from the liberal coasts will be a factor in making Texas less Republican.
And what happens to the really big cities that aren't keeping up with the growth of their second-tier peers? In New York City, some chefs say they are already having trouble staffing their kitchens. The line cooks, it seems, would rather open their own restaurants in Nashville than work for $12 an hour in Manhattan.
Before it's here, it's on the Bloomberg Terminal.
LEARN MORE