Augusta's Eisenhower Tree Demise Changes Golfers' 17th-Hole Plan
Michael Buteau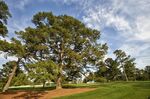 Masters Tournament rookie Patrick Reed made his way to the pro shop for a souvenir soon after arriving at Augusta National Golf Club for the first major tournament of the year.
"One of the commemorative coins of the Eisenhower Tree," Reed, 23, said in a press conference. "It's sad it's not here."
The 65-foot (20-meter) tree, named after U.S. President Dwight Eisenhower, was removed in February after sustaining damage during an ice storm that cost the city of Augusta, Georgia about $16 million to clean up. Its demise has dramatically changed the way the 17th hole will be played.
"It's not the same," Australia's Jason Day said. "It goes along with everything; the history and the tradition, walking down 17. I knew that I could clear it, but it's just something that I'd see all the time and you grow up watching it, and now it's gone."
The loblolly pine tree was estimated by the club to be 100 to 125 years old and was about 210 yards from the 17th tee on the left side of the fairway. While many long-hitting players were able to send their ball over the tree, the position often made tee shots more difficult for others.
"There are a lot of players that don't really see the tree because they hit it so far," said Curtis Strange, a two-time U.S. Open winner who was runner-up in the 1985 Masters and now works as a television golf analyst. "But not everybody does that. There are a lot of players in this field who would have to go around it so it certainly opened up the hole."
Eisenhower's Nemesis
Eisenhower, a former club member, hit his ball into the tree so often that he lobbied to have it removed, according to club lore. When he proposed cutting it down during a club's governors' meeting in 1956, former chairman Clifford Roberts ruled him out of order and adjourned the meeting. The tree has been linked to Eisenhower since.
"I've hit it a few times," U.S. PGA Tour player Steve Stricker said. "It was a thorn in most players' side. I don't know if any of the players are sad to see it leave."
Stricker is 3-over-par on the 17th hole in 42 rounds at the tournament. He has made nine bogeys and one double-bogey there.
The club said when the tree was removed that it hadn't decided on plans for the hole. Stricker said he's confident that a new tree will be planted in place of Eisenhower's pine.
"I'm surprised that there isn't a bigger one in place there already, to tell you the truth," he said.
The Masters is scheduled to begin April 10.
Before it's here, it's on the Bloomberg Terminal.
LEARN MORE