Will the SBA's New Boss Tighten Oversight of Its Lending Programs?
by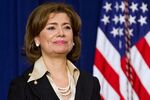 Vice President Joe Biden will swear in Maria Contreras-Sweet as head of the Small Business Administration at a ceremony at the Eisenhower Executive Office Building later today. It's not the president, and it's not the Rose Garden, but the SBA should be happy for any attention it can get. After all, the White House let the agency languish for 11 months between Karen Mills's resignation last February and Contreras-Sweet's nomination at the beginning of the year.
Getting the word out about agency programs would be one good goal for Contreras-Sweet. Some other good general-purpose tasks for the new SBA chief include helping small businesses get loans for smaller amounts, speeding up the loan application process, and getting federal agencies to hit their small business contracting goals.
As long as the SBA is enjoying a moment in the spotlight, here's another item for Contreras-Sweet's to-do list: The new boss should tackle the agency's apparent oversight problems, which have reared their head repeatedly in the year since Mills stepped down.
That means solving the SBA's franchise loan problem, which saw 28 percent of borrowers default from 2003 to 2012. Those soured loans cost taxpayers $1.5 billion, according to the Government Accountability Office, a congressional oversight body. It also means tightening scrutiny over loan programs that help military veterans, which the GAO says cost the government $31 million in defaults between 2007 and 2012 and which may not even have gone to veterans. The SBA inspector general, meanwhile, has called for the SBA to do a better job managing its direct loans to victims of natural disasters.
It's not a handful of isolated cases: The GAO found last September that the agency has a pattern of starting new programs without measuring how well they work. "Without conducting evaluations of pilot programs, SBA lacks the information needed to assess their performance," the agency wrote.
The SBA has said it would consider the recommendations of watchdogs such as the GAO and the inspector general. Judging by her résumé, Contreras-Sweet should be up to the task of tightening oversight of the agency's troubled loan programs. She's the founder of a bank that specializes in small business loans and a former member of the California cabinet, where she ran a state agency that dwarfs the SBA in budget and number of employees.
The small business community will be watching to see whether she tackles the agency's oversight issues transparently. The SBA does a good job of trumpeting its successes, which include backing more than $29 billion in loans for the year ended September 2013. When watchdogs point out ways that SBA loan programs should improve, the conversation is too often relegated to the footnotes.
Before it's here, it's on the Bloomberg Terminal.
LEARN MORE