Wesfarmers to Sell Insurance Broking to Arthur J. Gallagher
Narayanan Somasundaram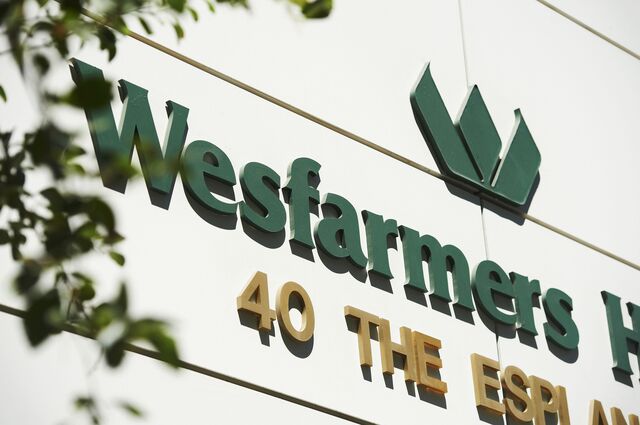 Wesfarmers Ltd. agreed to sell its insurance broking units to Arthur J. Gallagher & Co. for A$1.01 billion ($938 million) as the Australian conglomerate exits the business.
Wesfarmers expects pretax profit of A$310 million to A$335 million on the sale, the Perth-based company said in a statement today. The broking businesses include OAMPS Insurance Brokers Ltd. in Australia, OAMPS (UK) Ltd. and Crombie Lockwood Ltd. in New Zealand.
Wesfarmers, which agreed to sell its insurance underwriting business to Insurance Australia Group Ltd. for A$1.85 billion on Dec. 16., has been shifting spending to its Coles supermarket chain it bought in 2007 in Australia's largest corporate takeover. Gallagher is expanding overseas to add clients and increase business with U.S. customers that operate internationally.
"The insurance broking business was small in the scheme of things for Wesfarmers and was more of a management distraction than a value add," Scott Marshall, a Sydney-based analyst at Shaw Stockbroking Ltd., said by phone. "The easy picking from Coles have been made and while it'll be a grind going ahead for the business there is still significant upside that can be extracted."
He raised the rating on Wesfarmers's stock to hold from sell today.
Coles Focus
Wesfarmers expects the two sales of the insurance businesses to result in a pretax profit of as much as A$1.09 billion, it said in today's statement.
The agreements to sell the insurance underwriting operations and the broking businesses are "consistent with the company's focus on disciplined portfolio management having regard to the long-term interests of shareholders," Managing Director Richard Goyder said in the statement. Wesfarmers also owns coal mines, chemical producers and an investment bank.
Wesfarmers, which started in 1914 as a farmers' co-operative, is scouring for acquisitions as it looks to invest surplus funds rather than return them to shareholders, Ian McLeod, managing director of Coles, said in an interview on April 2. McLeod will be assessing takeover targets in a new role from June. Wesfarmers has as much as A$5 billion of cash and debt that can be used for takeovers, according to Bank of America Corp.'s Merrill Lynch unit.
The latest transaction also includes the sale of premium funding operations in Australia and New Zealand, which include the brands Lumley Finance and Monument Premium Funding. The sale is subject to regulatory approvals, the Australian firm said.
Gallagher Expansion
Gallagher, which raised funds in June for acquisitions, announced an agreement in September to acquire the Giles Group of Companies for 237 million pounds ($393 million) to expand in the U.K.
About 23 percent of Gallagher's revenue came from outside the U.S. last year, up from 11 percent in 2009, according to the firm's annual regulatory filings. It competes with Marsh & McLennan Cos. and Aon Plc, which are the largest brokers.
Wesfarmers closed 1.2 percent higher at A$42.08 in Sydney compared with a 0.2 percent drop in the benchmark S&P/ASX 200 Index. Shares of Itasca, Illinois-based Gallagher were down 0.2 percent this year through last week, closing at $46.84 in New York.
Before it's here, it's on the Bloomberg Terminal.
LEARN MORE