These Guys Get Paid to Play the Claw All Day
By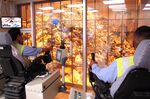 Remember the arcade Claw game, where you steer and drop a mechanical claw for a (negligible) chance to win a 10-cent stuffed animal? Well, that's what these guys get to do all day.
With crane-sized claws.
And instead of taking home the "prize," they get to set it on fire.
The picture above is a window into the Waste-to-Energy industry (known in the biz as WTE), where cities, towns and private companies are turning trash into electricity. There are 84 facilities operating in 23 U.S. states, turning roughly 60 billion pounds of trash into electricity each year. The plants sell 14.5 million megawatt hours of electricity back to the grid and recycle more than 730,000 tons of ferrous metals, according to a new report by the American Council on Renewable Energy.
The claw operators above are sorting municipal garbage to be burned to generate electricity at the Covanta HPower Energy-from-Waste Facility in Honolulu. The facility generates enough power to provide 10 percent of the electricity for the island of Oahu.
WTE turns trash into renewable electricity and slims down landfills. Worldwide, the process is cheaper than solar power, though not as cheap as wind, according to data from Bloomberg Energy Finance. The next challenge for the industry is to develop cleaner ways to harness the energy from trash. Some companies are working with energy-conversion processes known as pyrolysis or gasification.
Until then, this is what the Claw feeds:

More from Tom Randall:
Follow @tsrandall on Twitter for more on the Future of Energy.