Teaching Hoops-Mad China to Love College Basketball
By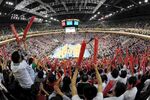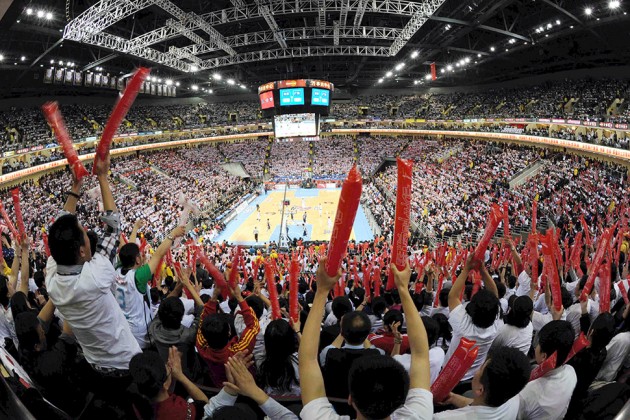 As March Madness concludes with Kentucky and UConn playing for the national championship on Monday night, there's one basketball-mad country that won't be paying much attention. In China, the NBA is wildly popular among sports fans. Former and current NBA stars such as Yao Ming and Jeremy Lin are huge. "China is terrific as an opportunity," former NBA Commissioner David Stern told Bloomberg Businessweek's Josh Tyrangiel last year.
The Chinese league has gained popularity, too, thanks in part to the contributions of ex-NBA players such as Stephon Marbury of the Beijing Ducks. The Ducks last month triumphed over the favored Xinjiang Guanghui to win the Chinese Basketball Association championship. On April 2, the 37-year-old former New York Knick received a key to the city from the mayor of Beijing, who named Marbury an honorary citizen of the Chinese capital.
College basketball has yet to catch on, though some schools are trying. The most ambitious attempt to win over Chinese fans will come in 2015, when the University of Washington and the University of Texas will play their season opener in China. The game will be the highest-profile move in a series of steps by the Huskies' conference, the Pac-12, to boost ties with China. Since the conference unveiled its "Global Initiative" in 2011, the Pac-12's UCLA and Arizona State men's basketball team and Cal's women's basketball team have played exhibition games in the country. An all-star team of Pac-12 women's volleyball players has toured China, too. This summer, men's basketball All Stars from the conference will travel in China for the first time, led by Oregon State coach (and President Obama brother-in-law) Craig Robinson.
Texas is a member of the Big 12, which doesn't (yet) have the same ambitions in China. But the Longhorns do have Athletics Director Steve Patterson, who already has some experience trying to get Chinese fans hooked on college hoops. Before arriving in Austin last November, he was in charge of athletics at Arizona State, which had a three-game tour of China last summer. The Sun Devils won all three games.
Colleges need to be wary about sending their scholar-athletes to China, though, as the Georgetown Hoyas discovered in the second game of their 2011 tour. A game in Beijing against a Chinese professional team turned ugly. The game was just an exhibition, but officials had to call it off with more than 9 minutes remaining when a nasty fight among players became even more dangerous, with fans throwing objects at Georgetown players. As more college teams travel to China, they need to be careful. Goodwill events can sour very quickly.
Before it's here, it's on the Bloomberg Terminal.
LEARN MORE