Kentucky Freshmen Favored to Win NCAA Title That Eluded Fab Five
Erik Matuszewski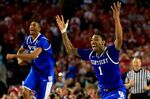 The University of Kentucky and its five freshmen starters are the pick of oddsmakers to cap a record-setting men's college basketball tournament with the ninth championship in school history.
Kentucky (29-10) is a 2 1/2-point favorite over the University of Connecticut (31-8) in tonight's title game in Arlington, Texas, according to the Las Vegas Hotel's SuperBook.
It's the most improbable championship game matchup since the National Collegiate Athletic Association tournament started seeding teams in 1979. Kentucky was seeded eighth in its 16-team region and tied the record for the lowest seed to reach the championship game. Connecticut is the first seventh seed to make the title game in 36 years.
The combined seeding of 15 for Kentucky and Connecticut eclipses the previous championship game record of 11 set in 2011, when UConn was a No. 3 seed and beat eighth-seeded Butler for the most recent of its three titles.
"There's two teams standing and we're one of them, that's crazy," said Kentucky coach John Calipari, whose team was ranked No. 1 in the preseason and then fell out of the top-25 poll after losing 10 games during the regular season.
Kentucky and Connecticut are both playing their best basketball at the right time of year.
The Wildcats rallied to beat Wisconsin 74-73 two days ago in the Final Four as Aaron Harrison hit the go-ahead three-pointer with 5.7 seconds left. It was the second straight game that Harrison hit the winning three-pointer in the closing seconds and continued a historic run for the Wildcats.
Rough Road
Since the tournament expanded to 64 teams in 1985, no team has had as difficult a road to the championship game as Kentucky. The combined seeding of their first five opponents was 18, one fewer than Villanova's path in 1985.
After beating Kansas State, the ninth seed in the Midwest Region, in their tournament opener, the Wildcats knocked off top-seeded Wichita State, which had been 35-0. Kentucky then beat No. 4 Louisville, the defending national champion, before wins over No. 2 seeds Michigan and Wisconsin.
The Wildcats trailed by at least seven points in each of their past four games and are the first team to win four straight games by five points or fewer in one NCAA tournament.
"We're so resilient and we never stop fighting," said Harrison, who along with his twin brother Andrew were among a record six McDonald's high school All-Americans in Kentucky's freshman class this season.
Upset Wins
Connecticut also had an improbable run to the fourth championship game in school history, with upset wins over No. 2 Villanova, No. 3 Iowa State and No. 4 Michigan State in the East Regional. The Huskies, who were ineligible for last year's NCAA tournament due to academic reasons, then knocked off Florida, the top overall seed in the tournament, 63-53 in the national semifinals two days ago as seven-point underdogs.
Connecticut erased a 12-point first-half deficit in ending Florida's 30-game winning streak.
UConn's starting backcourt tandem of Shabazz Napier and Ryan Boatright combined for 25 points and nine assists, while Florida guards Scottie Wilbekin and Michael Frazier II were limited to seven points on 3-of-12 shooting.
"We feel like we have been doubted the whole season, definitely heading into the tournament when people didn't have us winning the first game," said DeAndre Daniels, who had 20 points and 10 rebounds against Florida. "But that's what drives us. We like to go out and try to prove people wrong and let them know that UConn's back on top."
Long Shots
Of the more than 11 million NCAA tournament brackets filled out on ESPN, only 1,780 correctly predicted that Kentucky and Connecticut would make the title game. Both are now seeking to become the second team to win the national championship after being seeded lower than sixth in their 16-team regionals. Villanova won the 1985 title as a No. 8 seed.
"I keep telling them, they stay in the middle of the ring, keep throwing punches," said UConn coach Kevin Ollie, who took over the program in 2012 after Jim Calhoun's retirement. "When everybody counts us out, thinking we're on the mat, we get back up. This is what UConn has built over the years, starting with Coach Calhoun and keeping the tradition."
Kentucky's margin of victory through its first five games is 18 points, the fewest for any title game participant. They're now 40 minutes away from winning the championship that eluded Michigan's five freshmen starters, nicknamed the Fab Five, in their 1992 title game loss against Duke.
'Destiny'
"Kentucky, it's their time," Turner Sports college basketball analyst Grant Hill, who won two national titles at Duke, said after the Final Four. "There's a reason why they were preseason No. 1. It took a while to get to this point, but they're too good, too athletic, two talented and they feel like this is their destiny. The fact that they're here on this stage after all they've been through, all the questions, all the criticisms, I think they'll come out focused and win."
Calipari, 55, can earn a $350,000 bonus if his freshmen get him a second national championship in three years.
Ollie, 41, could make a bonus of $66,666 with a title.
Connecticut, who one month ago was routed by Louisville 81-48, had 100-1 odds to win the national title entering the tournament, tied for 22nd in the field. Kentucky, which had lost four of its final seven games heading into the tournament, was behind 15 other teams with 40-1 championship odds.
"Both teams belong here," Turner Sports college analyst Reggie Miller said. "Kentucky has the size, the inside advantage. Having said that, there's something to be said about those guards for UConn. It's going to be a good one."
Before it's here, it's on the Bloomberg Terminal.
LEARN MORE