pursuits
Introducing Your Newest TV Station: Yahoo
By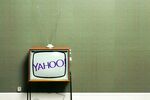 Into the eclectic mix of ways to watch TV shows without necessarily watching television—from iTunes and Amazon to Netflix, HuluPlus, HBO Go, and beyond—comes a new player: Yahoo!.
The Internet company now reportedly joins Microsoft's Xbox platform in the rush of newcomers producing original scripted TV shows. Yahoo is currently shopping around for four original television series that it will start airing later this year, sources at the company told the Wall Street Journal. That step comes just five months after Katie Couric's move to the website and is part of the company's broader push into original video, which has even included reports of overtures to YouTube's top producers. Microsoft, meanwhile, has signed up comedians Sarah Silverman and Seth Green for its new Xbox television studio, as our colleagues at Bloomberg News explain today, with plans to introduce shows in June.
Yahoo's shows will theoretically be ad-supported and available to people for free online, aligning it more closely with YouTube than, say, Netflix's subscription-driven strategy. Also unlike Netflix, which captured an existing audience with the already-beloved Arrested Development and then jumped headfirst into the serialized drama fray with House of Cards, Yahoo is looking for 10-episode comedy series with a per-episode cost that's less than "a few million dollars," as the Journal put it—or about the price of a regular network sitcom. That's a deft move on Yahoo's part: Audiences already have plenty of novelistic dramas, but what they can't get online (as original content, anyway) is a new half-hour comedy that really makes them laugh.
The moves by Yahoo and Microsoft are just part of a larger erosion of the traditional TV audience. The shrinking started in 2011 when Nielsen reported that the number of U.S. homes with television sets dropped for the first time in 20 years. As a result, the number of people who watched traditional TV programming, via broadcast or cable, started to decline as well. So far the decline has been slight but in a few years will probably pick up speed. Last year 86 percent of Americans still had cable—down from 88 percent just three years before. The premium cable channels have been hit the hardest: 32 percent of people subscribed to HBO, Showtime, or Starz last year, down from 38 percent in 2012, according to NPD group. Meanwhile, the number of Netflix subscribers rose 24 percent, to 31.1 million people.
At this rate, maybe the revolution won't be televised after all—it will be streamed instead.
Before it's here, it's on the Bloomberg Terminal.
LEARN MORE