Banks Given Two More Years to Meet Volcker CLO Standards
Cheyenne Hopkins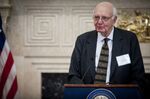 The Federal Reserve is giving banks an additional two years to comply with Volcker Rule standards for treatment of collateralized loan obligations after industry complaints that the requirements would lead to big losses.
The Fed will issue two one-year extensions for banks to make their interests in CLOs conform to the trading restrictions adopted in December, pushing the deadline to July 21, 2017, according to a statement released today. Banks then wouldn't be required to deduct CLO investments from tier 1 capital under the final rule until the new conformance date, the Fed said.
The change is meant to address banks' complaints that divesting the CLOs would lead to millions of dollars in losses. A January adjustment by regulators in the face of an American Bankers Association lawsuit eased treatment of collateralized debt obligations backed by trust preferred securities.
A two-year extension only delays rather than solves the problem, Representative Scott Garrett, a New Jersey Republican, said in a statement released before before the Fed announcement.
"Whether it is today or two years from now, this rule will force small and large banks to needlessly write down or hold a fire sale of these performing assets —- potentially creating huge bank losses," said Garrett, who urged regulators to go back to the drawing board to overhaul the rule.
The Securities Industry and Financial Markets Association, which represents large banks including JPMorgan Chase & Co. and Wells Fargo & Co., said it was "disappointed" that the Fed didn't use its authority to give banks broader relief.
Funding Source
"Any forced selling of these securities will result in widening of spreads in CLO trading markets and damage a key source of funding for Main Street businesses," Sifma President and Chief Executive Officer Ken Bentsen said in a statement.
U.S. banks hold about $70 billion of CLO debt, according to the Loan Syndications and Trading Association. The delay would apply only to CLOs banks had in place as of Dec. 31, 2013.
The rule named for former Fed Chairman Paul Volcker, who championed it as an adviser to President Barack Obama, was included in the 2010 Dodd-Frank Act as a way to restrict banks' proprietary trading and holdings in private equity and hedge funds after the 2008 credit crisis. The Fed has given banks a delay until July 21, 2015, to comply.
Before it's here, it's on the Bloomberg Terminal.
LEARN MORE