Energy Taxes Are a 'Rotting Carcass' That Keeps Smelling Worse
by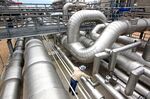 It's tax time -- the time of the year when every working American is reminded of the tortures of the U.S. tax code. The head of the U.S. Senate Finance Committee sums it up best:
"The U.S. tax code is a mess -- a rotting carcass that seems to smell worse each year," Ron Wyden, a Democrat from Oregon, said at the Bloomberg New Energy Finance Summit in New York today.
Specifically, he was criticizing the "piecemeal" credits in the energy industry.
There are more than a dozen tax preferences for fossil fuels, and another six for clean energy, he said. Each of those come with its own set of rules, and investing in renewables now requires a "full employment program for accountants and lawyers," Wyden said. Energy incentives should be cut to "just a handful."

Renewables are taking the biggest hit. The wind tax credit expired at the end of last year, and renewables are excluded from the Master Limited Partnership tax breaks available for fossil fuels.
"Practically every year some powerful interest group says it's time to give special treatment." Wyden said. "It is time to end the piecemeal stop-and-go approach. It's not working for the American people."
Americans have been complaining about taxes for a long time, so don't hold your breath that Wyden's call for a cleanup of the tax code is on its way. Or rather, do hold your breath, because the carcass continues to rot.
More from Tom Randall:
Follow @tsrandall on Twitter for more on the Future of Energy.
Before it's here, it's on the Bloomberg Terminal.
LEARN MORE