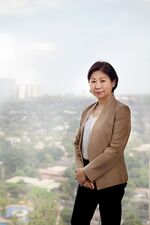 Teresita Sy-Coson sits down with her five siblings for lunch every Tuesday to plot the direction of the Philippines' largest family-run conglomerate. The sessions start at 11 and invariably spill over the allotted two hours, says Sy-Coson, 63, chairman of BDO Unibank Inc. and the eldest child of Henry Sy, the country's richest man.
"It's not always quiet," says Sy-Coson, who goes by Tessie. Her 89-year-old father, the founder of SM Investments Corp., the anchor of the family's $11.4 billion fortune, rarely attends. And he no longer vetoes decisions about his retail, banking and real estate empire. His four sons and two daughters get one vote each -- and the majority wins, Bloomberg Markets magazine will report in its May issue.
The discussions can get so heated that the siblings blurt out ideas in three languages -- Filipino, English and the Chinese dialect of Hokkien, Sy-Coson says. Sometimes the executives move swiftly, as they did in 2012, when they authorized a $1 billion rights offering for BDO, the nation's biggest lender.
Today, the bank has 1.3 trillion pesos ($29 billion) in deposits and 819 branches. It's lending to companies investing in infrastructure, a cornerstone of President Benigno S. Aquino III's economic development plan.
Aquino intends to spend 404.3 billion pesos on roads, bridges and airports this year, up 37 percent from 2013 as he seeks to boost infrastructure spending to 5.1 percent of gross domestic product in 2016 from 2.5 percent in 2013.
'Say Yes'
"We can argue across the table, or we can say yes," says Sy-Coson, who, along with three of her siblings, is a billionaire in her own right. "After years of refinement, I can say we work together very well."
As the Sys move from management by patriarch to management by committee, they face new challenges to their realm of 600 malls, department stores and retail shops. Retailing generated 71 percent of SM Investments' 253.5 billion pesos of revenue in 2013.
Lucio Co, who owns Puregold Price Club Inc., has unleashed more than 200 supermarkets and hypermarkets. His Cosco Capital Inc. in March acquired the biggest shopping center in Cabanatuan, a provincial city north of Manila.
Billionaire John Gokongwei's Robinsons Land Corp. plans seven new malls in the year ending Sept. 30 for a total of 39 -- closing in on the Sys' 48. Profits from retailing slipped to 21 percent of SM Investments' 27.4 billion pesos of net income last year from 30.8 percent in 2007.
Real Estate
Several Filipino billionaires are circling. Jaime Augusto Zobel de Ayala's Ayala Land Inc. and Andrew Tan's Megaworld Corp. are targeting property development and tourism.
To strengthen their real estate foray, the Sys agreed last year to meld SM's property businesses, including the Pico de Loro Cove resort south of Manila, into their mall development company, SM Prime Holdings Inc. The move bumped SM Prime above Ayala Land as the country's biggest developer by market value at the end of 2013.
As the government spends to rebuild after Super Typhoon Haiyan, Hans Sy, Henry's second son and SM Prime's president, sees a chance to profit.
New Malls
He's planning new malls in the Visayas chain of islands in the central Philippines, which took the brunt of the November storm that killed more than 6,200 people. And he sees growth on the southern island of Mindanao, the site of a four-decade Muslim insurgency.
Hans, 58, is also targeting China, where SM Prime plans to open one mall a year through 2016, adding to the five it has there now. Starting in 2017, he says he hopes to increase that pace to build more than one mall in the country annually.
Investors like the Sys' chances for growth -- even without Henry calling the shots.
Shares of SM Investments gained 275 percent through April 7 from their March 2005 listing in the country's then-largest public offering. That outpaces a 223 percent gain for the Philippine Stock Exchange Index.
"When I look at the Philippines, it's tough to wander very far away from the Sy family," says Donald Gimbel, who heads Geneva Investment Management of Chicago LLC's international investment and counts SM Investments, SM Prime and BDO Unibank among the $7.5 billion of equities he helps manage.
'Leg Up'
"They have such a leg up not only in retailing and banking but in understanding the whole of the Philippines."
Gimbel says Henry Sy's multiheaded management is working well now and Sy-Coson is a natural to eventually succeed Henry.
"The family will figure it out, but personally, I think Tessie is the strongest member," he says.
Sy-Coson says her father hasn't named a successor, and she won't speculate on who will succeed Henry after he dies. She says her father never groomed one child to be first among equals. He gave his two daughters the same respect and compensation as he gave his sons, she says.
Six Sys
Each child held multiple senior positions in SM Group, which includes SM Investments and the Sys' listed and unlisted companies.
"It's like Dad has multiplied to six people," she says. "It's a transition from a strong man to a strong board."
Henry Sy, like many aging Chinese tycoons who run family dynasties throughout Asia, is facing the task of planning an orderly handover.
By involving all of his children as managers and giving them an ownership stake, Sy has been more proactive than some Asian magnates -- even if he hasn't publicly designated a successor. The six wield a combined 44.3 percent stake that makes them SM Investments' biggest shareholder.
While choosing successors is important, more crucial is allowing the next generation to make their own decisions, says Marleen Dieleman, associate director of the National University of Singapore Business School's Centre for Governance, Institutions and Organisations.
Succession Issues
Some patriarchs resist ceding control or make no plans, sparking fights that damage their company, says Wang Gungwu, chairman of the East Asian Institute in Singapore.
The family of Stanley Ho, the then-89-year-old Hong Kong casino billionaire, battled over his assets in 2011. Ho resolved the dispute by giving up almost all his stake in parent company SJM Holdings Ltd.
In South Korea, Samsung Group Chairman Lee Kun Hee fought over his inheritance with elder brother Lee Maeng Hee after their father, Samsung founder Lee Byung Chull, died in 1987 without a will. A Seoul court ruled in favor of Lee Kun Hee in February, ending a two-year battle.
Henry Sy's father, Sy Xiu Shi, paved the way for the family dynasty in the 1930s with a store in Manila that sold rice and sardines.
Henry migrated in 1936 at age 12 from Jinjiang, China. After World War II, he branched out to sell shoes and opened ShoeMart, the genesis of the SM in company names, in 1958.
In 1972, the year President Ferdinand Marcos imposed martial law, Henry unveiled his first department store.
'Our Faith'
The Marcos era, which stretched until 1986, was marked by upheaval. Opposition leader Benigno Aquino Jr., the current president's father, was assassinated in 1983. In 1984, inflation soared 47 percent and GDP contracted 7.3 percent.
The following year, when GDP shrank by the same rate, Sy opened his first shopping mall with a few tenants. When the Marcos regime collapsed and the economy rebounded, Sy was poised to benefit.
"We always had our faith in the Philippines," Sy-Coson says.
Sy-Coson says she didn't join the family business by choice. After graduating from Metro Manila's Assumption College in 1970 with two degrees, in commerce and liberal arts, she applied for a master's degree at the Ateneo de Manila University. She says her father refused to pay her tuition, pushing her to instead join his company.
"When he asked me to work for him, he said, 'I want you to come to the school of hard knocks,'" she recalls.
Sy-Coson says she agreed to take over banking in 1984 at age 34 because someone had to.
'Still Here'
"I always thought, 'When I reach 40, I'm going to stop,'" she says. "I'm still here."
To compete, she says, she dressed and acted like a man. A dark suit and white shirt became her trademark.
"I realized early on that in business, it's a man's world," she says. "I thought, 'I'm not going to be different from them.'"
Starting in 2001, with the purchase of the Philippine unit of Dao Heng Bank Ltd., Sy-Coson built BDO into the country's largest lender. BDO made 15 acquisitions totaling more than $1.4 billion through April 7, according to data compiled by Bloomberg. After her husband, Filipino-Chinese lumber tycoon Louis Coson, died in 2003, she says, she became more involved in her work.
Sy-Coson says the biggest risk she took was leading BDO's acquisition of Equitable PCI Bank Inc. in 2004. Equitable had assets of 291 billion pesos at the end of 2003, double BDO's.
Negotiations dragged, and Sy-Coson says she felt terrible for instigating a deal that might fail. Her father advised her to step away. Both sides renegotiated, completing the transaction in June 2007 after more than two years.
"When it was over, I went abroad and splurged," she says.
'Growth Path'
Boosted by the 2012 rights offering, BDO increased its capital adequacy level, a measure of capital compared with risk-weighted assets, to 19.2 percent in 2012 from 15.8 percent a year earlier.
Last year, BDO's net income soared 56 percent to a record 22.6 billion pesos. Customer loans jumped 19 percent from 2012 to more than 900 billion pesos, while total deposits surged 44 percent to 1.3 trillion pesos. The bank opened 52 branches last year.
"The rights offering positioned BDO on a continuous growth path," says Edser Trinidad, an analyst at CIMB SB Equities in Manila. "It shows that Tessie and her management team have a long-term vision."
'The Boys'
Sy-Coson says she no longer feels compelled to dress like a man all of the time; she occasionally wears a dress when going out.
"I am happy, and I guess I've finally become one of the boys," she says.
Her children -- two daughters and one son in their 20s -- aren't interested in joining SM now, Sy-Coson says. They're pursuing culinary studies, writing and painting.
She says the booming economy will create opportunities and entice old and new rivals -- a frequent topic at the family's Tuesday lunches.
"We have to continually think of new ways to withstand competition," she says. In 10 years, she says, real estate may become bigger than retailing in SM's expanding empire.
"It doesn't have to be the same ball that keeps on rolling," she says.
Before it's here, it's on the Bloomberg Terminal.
LEARN MORE