As Airlines Grow Bigger, Do They Actually Get Better?
By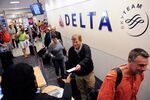 When each of the three largest U.S. airlines launched their merger proposals, one primary argument made to regulators and the public kept recurring. The marriage in question, they claimed over and over agin, would result in a healthier airline with the financial wherewithal to invest in the operation and improve the overall experience. Flying, the public was told, is often a nightmarish ordeal because of pinched finances and, by extension, airline employees nervous about their job security.
With the trio of megamergers in various states of completion, Delta Air Lines' executives brag that their operation—which integrated Northwest in a smooth fashion virtually unknown among airlines—is a template for how customer service and financial performance can travel together. Delta acquired Northwest in 2008 and has been reporting record financial profits, plus the restoration of its quarterly dividend.
The airline finished fourth in the 2013 Airline Quality Rating, an annual compilation (pdf) of how U.S. carriers performed in on-time performance, denied boardings, baggage handling, and customer complaints. The analysis is performed by Embry-Riddle Aeronautical University and Wichita State University. "Bigger hasn't always been better, but in Delta's case we are seeing a large airline perform at levels usually only seen by smaller low-fare carriers," Wichita State marketing professor Dean Headley, one of the report's co-authors, said today in a news release.
Virgin America was ranked No. 1 overall again. The airline had made its debut on the list in the top spot last year, the first time it was eligible for inclusion. The researchers rank only airlines that carry at least 1 percent of domestic traffic. JetBlue Airways came in second, the same as in 2012, followed by Hawaiian Airlines.
American Eagle, the regional airline wholly owned by American Airlines, finished in last place, beset by a cascade of delayed flights and mishandled bags in 2013. The carrier began rewarding workers for meeting operating targets in a "friendly competition" between its hubs and other work groups, American spokesman Matt Miller explained. "Thanks to the hard work of our employees, we already have seen improvements in on-time performance and mishandled bags," he wrote in an e-mail.
Delta's performance relative to the rest of the industry is partly a reflection of the airline's intense focus on daily operations, from avoiding cancellations at all costs to making sure its fleet of relatively older airplanes is subject to a strict maintenance regime designed to minimize delays and passenger connection glitches.
By culling flights and focusing on profitable flying, U.S. airlines have reduced congestion, which has lowered the rate of consumer complaints filed with the Department of Transportation. Those federal complaints are dominated each year by flight problems, usually related to cancellations and delays. Airlines also reduced the denied boarding rate, which is a function of how many extra seats a carrier sells on a flight. But punctuality and baggage handling problems both deteriorated in 2013, suggesting that U.S. airlines have plenty of room to improve.
AirTran, which Southwest acquired in May 2011, declined the most in the ranking, from third to No 10. Representatives for Southwest did not immediately respond to an e-mail seeking comment.
Here are the full rankings for 2013, with the prior year's rank.
1. Virgin America (1)
2. JetBlue (2)
3. Hawaiian (5)
4. Delta (4)
5. Alaska (6)
6. Endeavor (new to the rankings this year; formerly Pinnacle)
7. US Airways (9)
8. Southwest (8)
9. American (10)
10. AirTran (3)
11. Frontier (7)
12. United (14)
13. ExpressJet (13)
14. SkyWest (12)
15. American Eagle (11)
Before it's here, it's on the Bloomberg Terminal.
LEARN MORE