Hedge Funds Buy Crude as U.S. Gasoline Pump Prices Jump
Moming Zhou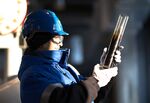 Fewer than three weeks into spring, oil speculators are already thinking about the summer.
Hedge funds and other money managers boosted bullish wagers the most since February, betting that refineries will need to buy more crude to accelerate gasoline output before the peak U.S summer driving season. Fuel supply is already tight, with consumers paying the most at the pump in seven months.
U.S. refineries are processing the most oil since January as plants come out of seasonal maintenance, squeezing crude stockpiles for the first time in 11 weeks. Speculative bets on rising prices for West Texas Intermediate, the benchmark grade, are the highest for this time of year since 2006, U.S. Commodity Futures Trading Commission data show.
"Refinery runs are up and as long as they are up, it's mighty hard to get crude to build," said Tom Finlon, the Jupiter, Florida-based director of Energy Analytics Group LLC. "You have every reason for prices to continue higher."
Hedge funds and other money managers boosted net-long positions in WTI by 7,518 futures and options in the week ended April 1, the CFTC reported. Bullish long positions rose 2 percent while bearish short holdings fell 2.2 percent.
Crude stockpiles contracted by 2.38 million barrels in the week ended March 28, snapping a 32.2-million-barrel gain the previous 10 weeks, Energy Information Administration data show. Fuel makers consumed 15.3 million barrels in the most recent weekly report, the most since January.
Futures Prices
Crude futures advanced 55 cents, or 0.6 percent, to $99.74 a barrel on the New York Mercantile Exchange in the period covered by the CFTC report. WTI fell 70 cents, or 0.7 percent, to close at $100.44 today, paring this year's gain to 2.1 percent.
Refineries boosted utilization rates to 87.7 percent in the week ended March 28, the highest level since Feb. 21, the EIA said April 2. The rate had declined to an almost 11-month low of 85.6 percent on March 14.
"The market's been in a bullish upturn," said Kyle Cooper, the director of commodities research at IAF Advisors in Houston. "More macro funds are coming into the market with money."
Tesoro Corp. said last month that its Golden Eagle refinery in California was operating normally after maintenance, Motiva Enterprises LLC said the Convent refinery in Louisiana returned to normal after planned work and Citgo Petroleum Corp.'s Corpus Christi refinery in Texas came back online. The three plants can process a combined 564,000 barrels daily, as much as South Africa consumes in a day.
Refinery Rates
The restarting of refinery units came as warmer weather boosted gasoline use. Consumption averaged 9 million barrels a day in the week ended March 21, a three-month high, according to the EIA. Demand was 8.71 million in the following seven days.
Regular gasoline prices averaged $3.579 a gallon nationwide yesterday, the highest level since Sept. 5, according to Heathrow, Florida-based AAA, the largest U.S. motoring group.
U.S. crude-oil stockpiles fell 0.6 percent in the week ended March 28 to 380.1 million, down from a four-month high of 382.5 million, according to the EIA.
The drop was partly due to a decrease in imports following a three-day closure of the Houston Ship Channel. The waterway was shut after a fuel-oil spill caused by a March 22 collision.
Net-long positions in WTI crude held by money managers, including hedge funds, commodity pools and commodity-trading advisers, gained by 2.6 percent to 300,921. Long positions climbed to 338,659, while shorts decreased to 37,738.
Gasoline Wagers
Bullish bets on gasoline advanced 6.5 percent to 59,268 futures and options. Futures slid 1.31 cents, or 0.5 percent, to $2.8697 a gallon on the Nymex in the reporting period and gained 0.7 percent to $2.9313 April 4. It slipped 0.53 cent to settle at $2.926 today.
Money managers' bullish wagers on U.S. ultra low sulfur diesel decreased 12 percent to 21,302. The fuel fell 3.37 cents, or 1.2 percent, to $2.8878 a gallon in the report week and dropped 1.72 cents, or 0.6 percent, to close at $2.8907 today.
Net-long wagers on four U.S. natural gas contracts climbed 0.7 percent to 412,256. The measure includes an index of four contracts adjusted to futures equivalents: Nymex natural gas futures, Nymex Henry Hub Swap Futures, Nymex ClearPort Henry Hub Penultimate Swaps and the ICE Futures U.S. Henry Hub contract.
Natural gas futures fell 13.5 cents, or 3.1 percent, to $4.276 per million British thermal units on Nymex during the report week. They rose 0.8 percent to settle at $4.476 today.
"As more units return to full service, the inventory build will stop," said John Kilduff, a partner at Again Capital LLC, a New York-based hedge fund that focuses on energy. "Domestic demand is picking up."
Before it's here, it's on the Bloomberg Terminal.
LEARN MORE