Afghans Double Turnout to Defy Taliban as Runoff Seen
Eltaf Najafizada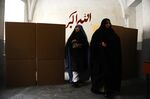 The Afghan government said voter turnout doubled from the previous presidential election in a show of defiance against Taliban insurgents as one of the leading candidates predicted a runoff would be necessary.
More than seven million voters cast ballots two days ago to pick President Hamid Karzai's successor, with about 35 percent of them women, according to the Independent Election Commission of Afghanistan. While preliminary results won't be announced until April 24, former foreign minister Zalmai Rassoul told reporters a second round is almost a certainty.
"I'm confident there is a runoff," Rassoul, one of three top presidential contenders, told reporters in Kabul yesterday, adding that he would respect the election results. "If it goes to the second round, we will win."
While 20 people died in election-day attacks, the high turnout drew praise from around the globe, making it harder for Taliban militants to disrupt Afghanistan's first democratic transfer of power since the U.S. ousted the group in 2001. The fact that election day wasn't disrupted by violence -- only 3 percent of polling stations closed for security reasons -- isn't a guarantee the rest of the electoral process will be smooth, said Martine van Bijlert of the Afghan Analysts Network.
"There are still credible reports of fraud from the areas that are difficult to monitor and from where news travels slowly," said Van Bijlert, co-director of the nonprofit policy group based in Kabul. "And we might still see a very contested count."
U.S. Troops
Most provinces have already completed an initial vote count, Noor Mohammad Noor, an election commission spokesman, said by phone today. Ballots are then transported to the organization's headquarters in Kabul for a second tally, he said.
Eight candidates competed to succeed Karzai, who has delayed signing a pact that's needed to keep U.S. troops in Afghanistan beyond this year. The U.S. and NATO are considering proposals to keep 8,000 to 12,000 troops to continue training Afghan forces, if they can reach an agreement with Afghanistan.
Besides Rassoul, the other front-runners include former World Bank economist Ashraf Ghani Ahmadzai and Abdullah Abdullah, the runner-up in 2009 who also once served as the country's top diplomat. All have pledged to sign the Bilateral Security Agreement with the U.S.
Obama Praise
"Whoever wins this election, at least among the top three candidates, would be welcomed by Washington, particularly given how toxic the relationship between President Barack Obama and Hamid Karzai has become," said Michael Kugelman, a senior associate for South Asian studies at the Woodrow Wilson International Center for Scholars in Washington.
"We commend the Afghan people, security forces, and elections officials on the turnout," Obama said in an April 5 statement issued by the White House. United Nations Secretary-General Ban Ki-moon said the vote "sent a powerful message that the perpetrators of violence cannot win."
The U.S. and its allies have about 52,000 troops in Afghanistan and plan to withdraw all their combat forces by the end of this year. The war has cost 2,313 American lives as of April 3, with 19,694 personnel wounded in action, according to Pentagon data compiled by Bloomberg.
As many as 12 million Afghans at home and 8 million living abroad were eligible to vote on April 5. If no candidate wins more than 50 percent of ballots -- a scenario the head of U.S. forces in the country views as probable -- a runoff between the top two vote-getters would take place around the end of May.
'Big Slap'
"We believe in democracy, and the country can go forward through democracy -- not war," Hamid Ibrahimi, 31, said at a Kabul polling booth, showing off an ink-stained finger that proved he voted. "My vote today is a big slap to Taliban and those who try to destroy our country."
The Taliban had vowed to use "all force" to disrupt the process monitored by more than 260,000 people and costing Asia's poorest economy and its allies $136 million. Over the past month, the Taliban has killed at least 25 people in Kabul, including policemen, election officials and foreigners.
An Afghan policeman shot two female foreign journalists working for the Associated Press on April 4 while they were reporting on a convoy carrying materials to a polling site. Pulitzer-prize winning photographer Anja Niedringhaus was killed and reporter Kathy Gannon was wounded.
Ballot Papers
"The polling sites across the country were under heavy attacks of Taliban," Zabihullah Mujahed, the group's spokesman, said in an e-mailed statement yesterday. At least 54 Taliban militants were killed yesterday in a clash with Afghan national police while attempting to target polling centers in the eastern Ghazni province, according to the interior ministry.
More than 10,000 domestic observers and 250,000 candidate and party agents were accredited to monitor the polls, and they were to be joined by "several hundred" international observers, according to data from the United Nations Assistance Mission in Afghanistan.
"Despite possible terrorist attacks, heavy rains and cold weather, Afghan people with their wide participation boosted the nation," Karzai said April 5 after voting completed, according to a video posted on presidential palace website.
The heavy turnout prompted some polling stations to run out of ballot papers, according to Ziaulhaq Amarkhil, a senior election commission official. Abdullah, who served as Karzai's foreign minister for four years, withdrew in 2009 from a runoff with his former boss because of concerns that fraud would undermine the results.
Afghanistan's economy has expanded eightfold since 2001 to $20.5 billion in annual GDP, while its infant mortality has declined 33 percent and school enrollment risen to 7.8 million from 1 million in 2002, according to official data and figures from the World Bank.
"The election shows the strong determination of Afghan people in accepting and practicing democracy in a country that suffered from more than three decades of war," said Ahmad Saeedi, a former Afghan diplomat to Pakistan and currently a Kabul-based political analyst. "The wide participation also means a big blow to our enemies and the Taliban."
Before it's here, it's on the Bloomberg Terminal.
LEARN MORE