Will Smaller Banks Bring Bigger Returns?
by
Institutional Investor has consistently named Keefe Bruyette & Woods to its "All American Research Team" for excellence in banking research.
The company's chief executive officer, Tom Michaud, joined us today on Surveillance with a curious admission. He told us the firm ranks as "buys" just three of the 21 large banks on its widely followed benchmark KBW Index. He argues valuations are too high and growth is too low.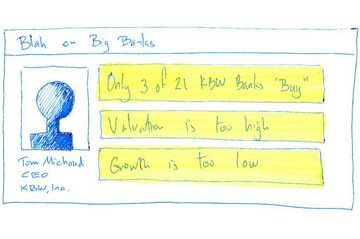 Looking at the data, big banks are forecast to grow earnings only 4.5 percent in 2014, about half the rate of the S&P 500 Index. As for valuation, banks may appear cheaper than the market at first blush, but not when adjusted for the lower growth rate.
Legendary investor Peter Lynch, long-time portfolio manager of the Fidelity Magellan Fund, argued for comparing a company's valuation (its price to earnings ratio) to its growth rate, or "PEG" for short. Think of it as the price you're paying for the growth you're getting. A smaller ratio is better.
In our example, big banks are trading at a PEG ratio of 3.4, well above the 2.0 ratio for the broader market. This is Tom's point... they're expensive.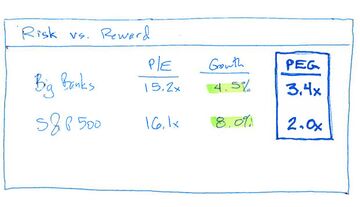 Tom also made clear the difference between large money center banks that constitute the KBW Bank Index, and the smaller regional banks. Because they don't engage in capital markets businesses, regional banks are less mired in reform and restructuring related to Dodd-Frank. As a result, they're able to focus on core lending as the economy recover. They're growing -- faster, in fact, than the S&P 500. Based on PEG ratios, they're also cheaper. These are the banks that Tom's research team is recommending.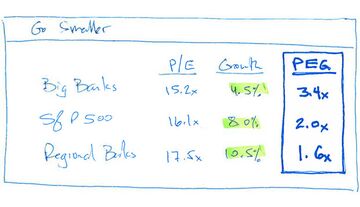 For investors looking to invest in regional banks, there's the SPDR S&P Regional Banking ETF (KRE ). It has returned 35 percent during the past 12 months, well ahead of the S&P 500.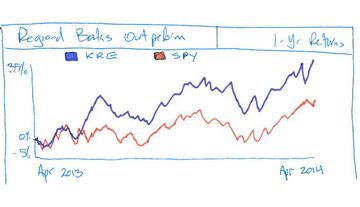 Putting it all together, regional banks are growing faster and they stocks are cheaper. They are also outperforming. We like this combination.
Before it's here, it's on the Bloomberg Terminal.
LEARN MORE