pursuits
Replacing David Letterman: How About Neil Patrick Harris?
By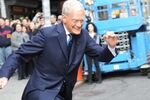 Everybody knows who should replace David Letterman. You know it. I know it. My former JV basketball coach knows it.
On Thursday evening, within minutes of CBS's announcement that Letterman will retire next year, Twitter and Facebook were flooded with righteous nominations for (duh!) who should be the next comedian to host the Late Show.
Obviously, it should be Tina Fey. Definitely, Seinfeld. Without a doubt, Chelsea Handler. Absolutely, Amy Poehler. Stephen Colbert! Ellen DeGeneres! George Lopez! Anybody but Leno!
But of course, late night television is not a democracy. It's a big business under tremendous competitive pressure. And no matter what we think, there's only one person whose vote ultimately matters: CBS President and Chief Executive Leslie Moonves.
Who will he choose?
Late night successions are rarely easy (see: O'Brien, Conan). But Moonves's task is particularly tricky because unlike his rivals at NBC, CBS has no in-house farm team of improv talent. It has no Saturday Night Live or Lorne Michaels, and thus no Jimmy Fallon or Seth Meyers, perfectly groomed and waiting eagerly in the wings.
At the same time, Moonves's job is also made easier by the fact that there is no obvious heir apparent. Craig Ferguson, who since 2004 has hosted the Late Late Show on CBS following Letterman, has said repeatedly in the past that he has no desire to move into Letterman's slot. He is unlikely to throw a fit in public if passed over for the job. There will be no need for a late night version of Operation Bambi.
The job is wide open. Ultimately it will come down to taste. So what do we know about Moonves's predilection for big-tent comedy hosts? There is a major precedent worth considering. The last two times that Moonves needed to choose a comedian to host a major TV franchise with a live audience, comedy acts, and musical guests, something geared toward a mass audience, he chose one person: Neil Patrick Harris.
In 2009, when Moonves chose Harris to host the Primetime Emmy Awards on CBS, Harris performed well. Then last year, when once again it was CBS's turn to broadcast the Emmys, Moonves chose Harris again. Ratings hit a seven-year high.
More evidence to consider: During Moonves's time atop CBS, Harris has also hosted several Tony Awards ceremonies and made multiple star appearances at the network's upfront presentation to advertisers. As Deadline Hollywood noted last year: "Harris has become CBS's go-to guy for high-profile hosting gigs."
The Late Show is the ultimate high-profile hosting gig at CBS. Could Moonves again choose Harris? There are several factors in his favor:
• Harris is available. This week, How I Met Your Mother, on which Harris starred, finished its ninth and final season.
• Harris is on a roll. The How I Met Your Mother finale set record ratings, bringing in some 12.9 million viewers.
• Harris, 40, is the right age. NBC's Fallon is 39 and ABC's Jimmy Kimmel is 46.
• He seems OK at social media. More than 8.3 million followers.
• He can definitely sing. Not sure if he can slow-jam the news like Fallon.
In the meantime, we'll get one more year of Letterman, who is closing in on 6,000 episodes. It's an amazing run, one that nearly self-destructed in 2009. You can watch Letterman announce his retirement here.
Before it's here, it's on the Bloomberg Terminal.
LEARN MORE