Mercedes Just Had Its Best Month Ever
by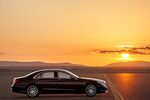 A fairly extensive body of research suggests that customers are put off by too many choices. But that might not apply to swanky German cars.
With a fast-expanding fleet of machines, Mercedes just booked a massive chunk of business in March—its best month ever, in fact. Daimler sold 158,523 vehicles worldwide, 13 percent more than it sold in March 2013.
Neither BMW nor Volkswagen's Audi, the global luxury leader this year, has reported last month's sales yet. But the Daimler figures represent a 14 percent increase over Audi sales in March 2012 and a 6 percent improvement over BMW's year-earlier performance.
In short, it was a bonkers bit of business.

In the car-selling game, that kind of bump typically means shenanigans—specifically, huge incentives that are great for moving metal but not so powerful at fueling profit. It's too soon to tell just how much cash Daimler dealers were putting on the hood of their new sedans and SUVs last month, but what's interesting is that in the U.S., at least, the company has been dialing down sales sweeteners recently, minus a slight uptick in February.

It's possible that Mercedes is simply making great cars and a wider variety of them. As part of a plan to unveil 30 new models through 2020, it has rolled out in recent months the relatively affordable CLA sedan, the compact A-class hatchback, and a compact crossover, the GLA. Those smaller, cheaper options seem to be driving the blue-chip brand in China, Japan, and the United Kingdom, where Mercedes made its biggest gains.
In the U.S., the company now sells about 15 models to BMW's 10.
The other possibility is that Daimler is burning up its profit margins in its rush to get out front. We'll know if that's the case when the company announces earnings April 30.
Before it's here, it's on the Bloomberg Terminal.
LEARN MORE