March Jobs Report: Not Too Hot, Not Too Cold
by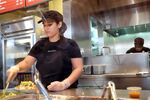 Employers hired 192,000 people in March, and the unemployment rate stayed pat at 6.7 percent, according to the government's latest jobs report. That's pretty much exactly in line with expectations, though not quite the early spring bounce that many were hoping for after a bleak winter.
Of the 90 economists surveyed by Bloomberg, the average guess was that nonfarm payrolls would increase by 200,000 jobs in March. The whisper number, that guess which spreads around Wall Street ahead of the report, was more like 250,000. Still, 192,000 new jobs is solid and March marks the latest month of surprisingly consistent job growth. Over the past 12 months, job growth has averaged 183,000 per month; that's more than 2 million jobs over the past year.
This is what some economists see as a Goldilocks jobs report: not so strong that the Fed will speed the tapering of its monthly bond purchases, not so weak that the Fed will suspend the tapering. In the markets, that means just enough to keep the rally in the stock market going, but not so many to trigger a sell-off in bonds.
Some takeaways from the March report:
The winter wasn't quite as bleak as we thought. Job gains for both January and February were revised up to the tune of an extra 37,000 jobs.
Adult men and women now have the same rate of unemployment, at 6.2 percent; women lost ground while men gained some.
The long-term unemployed number didn't budge. There are still 3.7 million people who have been out of work for more than six months; that's fallen by about 837,000 over the past year, but is still historically high, with the long-term unemployed accounting for 35.8 percent of all unemployed people.
The workweek got slightly longer (up by 0.2 hours) while average hourly earnings fell by a penny.
Construction seems to be coming back strong. Since January, a total of 37,000 jobs have been added, boosted by new home construction presumably.
The federal government continues to shed workers. There are now 85,000 fewer federal government jobs than there were 12 months ago.
Before it's here, it's on the Bloomberg Terminal.
LEARN MORE