Manchester United Investors Are Winning Even Though the Team Isn't
by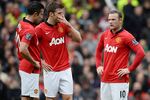 Manchester United is on an absolute tear—shooting up the charts with a glorious performance. The stock, that is. Manchester United, the team, isn't faring so well.
The perennial toast of the English Premier League has fallen to seventh in the standings with only five weeks left in the season. In March alone, Manchester United was shut out by both Liverpool and Manchester City. To get a sense of how atrocious this season is, the team hasn't finished worse than second place since 2005.
Meanwhile, the shares are up 6 percent this year. It turns out Manchester United the business—the team of suits shooting for sponsorship deals and tackling big TV contracts—is fairly insulated from what happens on the pitch. In the most recent quarter, it posted record revenue.
Here's how the club's inflows break down:
38% Broadcasting
28% Ticket sales/concessions
24% Sponsorships
7% Merchandise/licensing
3% Mobile and Web partnerships/advertising



It's tough to say what slice of that pie shrinks when the team stinks. Most of the broadcasting money is split league-wide and sponsorship deals run for years. The team has already locked up a $559 million deal to plaster "Chevrolet" on its jerseys for seven years starting next season. In February, the club was crowing about six new sponsors, including Unilever (its "laundry partner") and the Hong Kong Jockey Club, which sounds like a great place to drink some Aperol cocktails (the club's "global spirits partner").
Here's how Executive Vice Chairman Edward Woodward explained that marketing mojo on a conference call in February:
"It takes a long, long time to build up a huge fan base, to have, if you like, the equity values of what we are as a business and as a club projected out there so that people can understand from a commercial perspective why it makes sense to partner with us. And I don't think that that will go away for a long time."
Meanwhile, it's hard to imagine empty seats at Old Trafford; the stadium has been at capacity for at least 15 years. Last year, the big-ticket corporate seats sold out before the season even started. That leaves merchandise. The youth of Manchester—or Manhattan, for that matter—might be more interested in Luis Suarez jerseys this season. After all, Suarez has 29 goals for Liverpool, compared with 15 for Man U's Wayne Rooney. Still, a 10 percent drop in product sales would equate to less than a 1 percent decline in Manchester United's total haul.
The one area where this season could haunt the club is at the negotiating table. Specifically, Manchester's lucrative uniform deal with Nike expires next year. There were reports that Nike was close to inking a new contract worth $100 million a year. But at this rate, the apparel empire is likely dialing back its financial models on a weekly basis.
And the club isn't used to losing. If it doesn't turn things around in the next few weeks, its shareholders may clamor for major changes. Woodward has already promised that salary expenses will "track higher" as Manchester United looks to claw its way back to the top of the league.
If the losses keep coming, look for the club to pad its schedule of exhibition games around the world. After all, these players are big businessmen now; fundraising trips to Dubai and Shanghai are just part of the game.
Before it's here, it's on the Bloomberg Terminal.
LEARN MORE