J-Lo Backed NuvoTV Outbids Puff Daddy for MSG's Fuse TV
Andy Fixmer and Stephanie Ruhle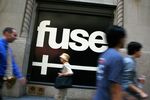 J-Lo has outbid Puff Daddy in a battle to acquire pay-TV distribution for their rival cable networks.
NuvoTV, backed by Jennifer Lopez, has reached an agreement to buy Fuse TV from Madison Square Garden Co., the companies announced today. Bloomberg News reported yesterday that a deal had been reached. The pop star and entrepreneur, known as J-Lo by fans, outbid hip-hop mogul Sean "Puff Daddy" Combs, offering $226 million in cash and a 15 percent equity stake in the combined Fuse and NuvoTV, an English-language channel marketed to Latinos.
NuvoTV will use Fuse to expand its audience. Even with Lopez's star power, the channel can more easily gain eyeballs by acquiring another network than by trying to secure its own deals with pay-TV operators. Los Angeles-based NuvoTV reaches more than 32 million households, less than half of Fuse TV's 73 million. Time Warner Cable Inc. and DirecTV have been dropping low-rated channels to focus on the most popular ones.
The deal "enhances our distribution relationships, dramatically expands our aggregate subscriber base, provides substantial economies of scale, affords unique opportunities for programming and cross-promotion and should be extremely appealing to the advertising community," Michael Schwimmer, chief executive officer of NuvoTV, said in today's statement.
The 15 percent equity stake may be worth about $50 million, based on the estimated value per subscriber, Benjamin Mogil, an analyst at Stifel Financial Corp., wrote in a note today.
The equity portion of the deal may be reduced based on certain performance goals, according to the companies' statement. MSG will also gain a seat on the board of SiTV Media Inc., the parent company of NuvoTV. The deal is expected to close between July 1 and Sept. 30.
Outbidding Ex
Combs, 43, was once linked romantically to Lopez. He also sought to buy Fuse for its distribution. The rapper, who has been known as P. Diddy, announced he would return to his stage name of Puff Daddy in a recent teaser video for his next single.
Revolt, a music-focused TV network he founded with Comcast Corp., had bid about $200 million, people familiar with the matter said last month.
Al Jazeera acquired Al Gore's Current TV for about $500 million last year. Current reached about 60 million U.S. homes.
Lopez, who holds a minority stake in NuvoTV, is the chief creative officer there and contributes programming through her Nuyorican Productions. The 44-year-old singer, actress and "American Idol" judge also advises the network on strategy and marketing.
'Living Color'
"Music is my first love so the acquisition of Fuse is near and dear to my heart," Lopez said in the statement. "It's exciting that between NuvoTV and Fuse we'll have the ability to deliver a broad array of terrific content both from a Latino perspective and across multiple genres, including music, to a broader audience."
NuvoTV raised $40 million in 2012 from Columbia Capital LLC, Rho Capital Partners Inc., Veronis Suhler Stevenson LLC and Tennenbaum Capital Partners LLC. LionTree Advisors LLC advised NuvoTV on the Fuse TV deal. Jefferies Group LLC provided advice and financing.
Lopez, also known as J-Lo, got her start as a dancer on "In Living Color" in the early 1990s. She went on to sell 70 million records, according to her website, and has perfume, jewelry and clothing lines, among other businesses. Her company produces "The Fosters," an ABC Family series about a lesbian couple raising biological and foster children.
Knicks Owner
MSG, based in New York, said in September it was working with JPMorgan Chase & Co. to find a buyer for Fuse. The owner of the namesake arena in Manhattan decided to sell the cable channel after various parties expressed interest, Hank Ratner, the former chief executive officer, said on a Nov. 1 conference call. Tad Smith replaced Ratner as president and CEO in February.
MSG, controlled by the Dolan family and also owner of the New York Knicks basketball team, rose 1.3 percent to $57.96 at 10:40 a.m. in New York, giving it a market value of $4.5 billion. The stock was little changed this year through yesterday, and gained 30 percent in 2013.
Before it's here, it's on the Bloomberg Terminal.
LEARN MORE