How the FAA Found One Airline a New Product Line
By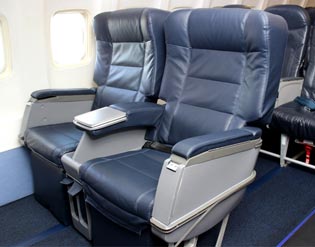 Airlines usually complain that Federal Aviation Administration rules just make running an airline more expensive. They don't often give the agency credit for a whole new line of revenue.
 
No-frills carrier Allegiant Air, however, is happy to share the credit. To get approval to fly in and out of Hawaii, the airline had to make provisions for adequate rest for its pilots. A release announcing its new Giant Seats, which are large leather chairs the airline is now selling for $50 to $90, the company explained:
"Allegiant installed the first of these new seats as part of compliance with changes to FAA crew rest rules, which require minimum seat requirements for augmented crews resting in the passenger cabin. A pair of the new seats was installed to comply with these rules, but the company also saw an opportunity to offer these more comfortable seats to passengers in other parts of the cabin and on flights that do not require augmented crew rest."
The skeptical reader might note that other carriers, including rival Spirit Airlines, have been offering bigger seats for more money for a while now, which might also have brought the opportunity to Allegiant's attention. The Giant Seat is like a first-class seat but in the economy cabin (no hot nuts for you). For those who just want more legroom, Allegiant has created "Legroom +" that will offer up to six more inches of legroom, increasing seat pitch to 34 inches between rows. That's the same amount of pitch Delta Air Lines sells in its Economy Comfort section on its domestic fleet. United's extra-space cabin, Economy Plus, has 35 inches of seat pitch on planes flown domestically.
Before it's here, it's on the Bloomberg Terminal.
LEARN MORE